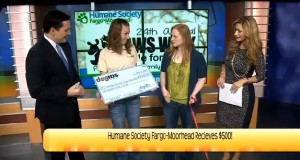 dogIDs Partners with Valley News Live
This past May, dogIDs happily partnered with local news station, Valley News Live, for a special promotion benefiting the Humane Society of Fargo Moorhead.

Valley News Live set a goal of 70,000 Facebook "Likes" by the end of May 2014. If they hit their goal, dogIDs agreed to donate $500.00 to the Humane Society of Fargo Moorhead. The money would assist in their threefold mission: preventing cruelty to animals, educating proper and humane care of animals and finding permanent, loving homes for homeless pets.

We are happy to report that this past Wednesday, dogIDs' Merchandising Manager, Ashley Farkas, went onto the North Dakota Today Show to present a donation of $500.00.

dogIDs is pleased with the outcome of this promotion and is always looking for new ways to partner with our community and give back to the four-legged friends who give so much to us.