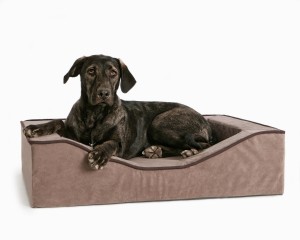 How many beds have you gone through for your dog? Personally, I've bought Brick about five beds in the five years I've had him.

I often went for the lowest-priced options thinking I'd save money, but they'd never last. Either they'd get lumpy or too flat, or simple wear and tear

got the best of them too quickly. If only I had gotten a high-quality, durable bed off the bat, because that would have saved the most in the long run.


Durability aside, you may wonder if you really need an orthopedic bed for your pup. I mean, orthopedics are for senior citizens, right? Not necessarily! Doggies of all ages and sizes can benefit from a great bed.
Orthopedic Dog Beds
If you've ever spent the night on an uncomfortable mattress, you know how much it can affect you. An achy back, a restless night not being able to get comfortable. The same thing can happen to dogs, and if they're forced to sleep on a low-quality bed every night, they may have aches or their quality of sleep may be compromised.
A quality orthopedic bed can also provide:
Proper support. Soft, fluffy beds might look more appealing, but they don't provide good support, and likewise a too-hard bed could aggravate your dog's joints.
Even weight distribution, which helps support joints and muscles and improves blood flow
Temperature regulation. Some beds can help keep your dog cool in the summer and warm in the winter.
There are many options, and a look at your dog's lifestyle can help you pick the best one. You can choose from waterproof materials, or chew-resistant, antibacterial fabric, gel, memory foam, even fun style options like leather, camouflage or chevron.
The new orthopedic beds that we offer here at dogIDs are made by BuddyRest. They are veterinarian recommended and are made with human-grade True Comfort memory foam (not that egg create foam), making it great for support and relief and ensuring it won't dip or flatten over time. Though they come with a washable cover, you won't need to wash it often! That is because each bed utilizes the latest technology in performance fabrics and repel moisture, hair, odor and bacteria. As if that weren't enough, they're sewn with military-grade Kevlar thread for extra durability. Many have a 10-year warranty and all are made in the U.S.
Turns out, 9 out of 10 dogs will suffer from joint pain at some point, and a simple bed can make it more comfortable. Isn't it time you bought one bed to last the rest of your dog's life? I know it's a switch I intend to make.