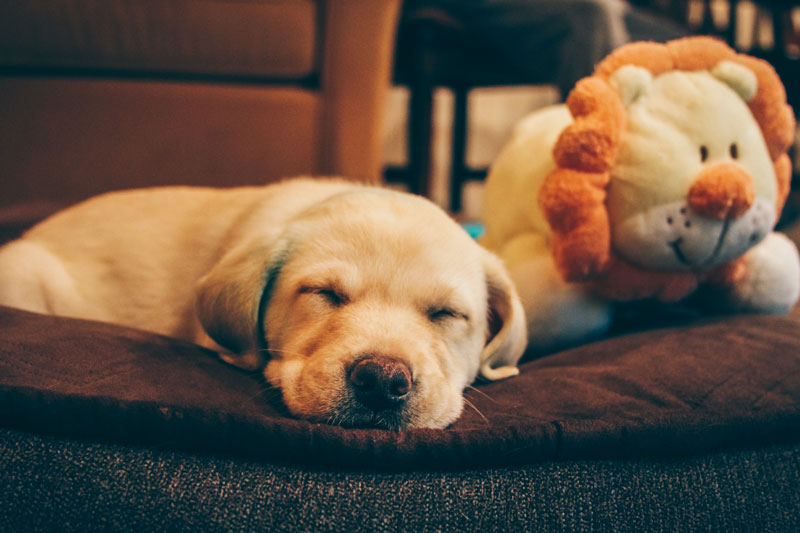 Many of us don't give much thought to the purchases we make for our dogs. After all, if an item seems to do the job, what's the point in wasting precious time analyzing it? The thing is, there are probably quite a few items our dogs use regularly that would benefit from an upgrade. These items impact our dogs' health and comfort, so getting the right ones will ensure our dogs are well taken care of. Read on to discover the most important dog items that may be in need of an upgrade.
A Collar
When was the last time you bought your dog a new collar? If you can't remember, you're certainly not alone. "Dog owners often get so used to seeing their dog with their collar, that they don't realize it's in dire need of replacing," says Angela Stringfellow from Pet Life Today. "A dog collar should not only be stylish and comfortable for your dog to wear, but also give proper support to their dog leash."
A simple rule of thumb is that dog collars should be replaced when they no longer fit or if they get worn out. As Stringfellow points out, doing so is not even just about aesthetics. An old collar may be painful or uncomfortable for your dog and also make walks an unpleasant experience for them (and you!). When you're on the hunt for a new one, keep an eye out for options that aren't too tight or too loose and are made from a comfortable material.
Dog Bed
Is your dog's bed looking a little rough around the edges? An upgrade may well be overdue. As you're well aware, getting a good night's sleep is essential for your dog's overall health and wellbeing. Providing a proper dog bed will help their body recuperate after a long day and give them an area in your house that's all theirs. This is why getting a dog bed designed for maximum comfort is essential. You should also look for a bed that will last for many years to come.
A high quality dog bed offers both of these qualities. As pet expert Lauren Cormier highlights in her roundup of the best chew-proof dog beds, no dog bed is completely chew-proof. That being said, there are many options that are designed with "high-quality, heavy-duty, chew-resistant materials." By opting for a high-quality dog bed, you won't need to worry about the wasted cost and time involved with replacing your dog's bed on a regular basis.
As consumers, we are becoming increasingly aware of what we put into our bodies. The same should go for what you put into your dog's body. Just as you should choose nutrient-packed foods suitable for your particular health needs, it's important to have the same considerations in mind when selecting your dog's meals.
Instead of selecting a generic bag of dog food from your supermarket without a second thought, take the time to work out what your dog really needs. There are a number of considerations to keep in mind. For instance, an older dog will have completely different needs than a middle-aged or younger dog. If your dog has any health conditions, you may need to provide your dog with special dog food to ensure their optimal health. If you're unsure of what's best for your pooch, the best person to ask is your vet. They have the expertise to advise on which foods to feed as well as which ones to avoid.
Cleaning Products
Now that we've spoken about what goes in your dog's body, let's talk about the products you should be using to clean and protect the outside of their body. Yes, we're talking about how to keep their skin and fur in top condition! Shampoos, soaps, and other products can make a huge difference in the health of their skin and fur.
Some cleaning products for dogs can be incredibly abrasive and can harm their body as a result. If you've noticed that their skin is dry and cracked or that their coat is lacking luster, the products you're using could be the reason why. Swapping chemical-filled cleaning products to more natural or organic alternatives may be just the fix you're looking for. In general, more natural dog skin care products will contain fewer irritants and may be less harsh on their skin and fur. Educate yourself about which ingredients to avoid in these products and you'll be well on your way to making a more informed choice.
About the Author
Jenny Jarvis is a frequent contributing author for Pet Life Today. She's originally from Central Ohio but has lived all over the world with her family, including Texas, Florida and Germany, among other places. She's taken her two fur babies (and human ones, too) with her along the way and currently calls Eastern PA home. Jenny has been writing on all things pets (mostly focused on dogs) since 2015 and hopes to continue honing her expertise for many years to come.