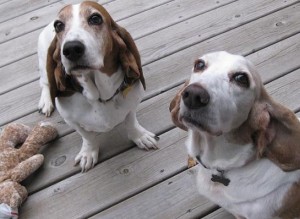 Photo: Lindsay Stordahl[/caption] Hiring a professional pet sitter can be a great option. Some dogs don't do well in a busy boarding kennel environment. They might not get along well with other dogs, or they might get too stressed out from all the barking. For those dogs, hiring a professional pet sitter allows them to stay in the comfort of their own home while receiving plenty of one-on-one attention and exercise. But how do you go about finding the right pet sitter? Here are five tips.
Choosing the Right Pet Sitter
1. Plan ahead so you don't feel rushed.
The last thing you want to do is head out of town feeling uneasy about the pet sitter you hired at the last minute. Make sure to give yourself at least a month to start finding the right sitter. You could start by looking at a few of the local pet sitter's web sites. Read their About pages to see who might be a good match for your unique pets. Look for a testimonials page and search for reviews on Google + or Yelp. It's also important to find someone who will meet your pet's unique needs. For example, if you have a high-energy dog you definitely want to hire a pet sitter who is in good shape. Some pet sitters will consider a "walk" a five-minute stroll around the block. Others will take the dogs on some serious power walks or running sessions. As another example, maybe your cat requires medication at specific times every day. You'll definitely want to find a pet sitter who is comfortable giving medication to cats.
2. Set up a meet and greet.
It's a common procedure for sitters to set up a meet and greet with each potential new client. This is your opportunity to ask questions and get to know the person. Ask about her experience such as how long she has been offering pet sitting. The pet sitter will most likely have some forms for you to fill out at this time, but don't feel like you have to commit to this particular pet sitter quite yet. If you want to take some time to think about it and meet another sitter or two, that would be OK. It's great if there are a few options in your area.
3. Watch how the person interacts with your dog or cat.
When you meet the pet sitter, does he seem like he likes dogs and cats? Is he down on the ground interacting with your dog? Does he seem to have the right energy? Some dogs may need someone with a calming energy, while others do better with a more upbeat person. You could also ask the pet sitter to take your dog for a short walk while you go along. Just say something such as, "Hey, sometimes Lucy is a little nervous around strangers. Could we take her for a five-minute walk and see how she does with you?" This will give you an opportunity to watch how the pet sitter handles your dog, especially if you have a big, strong dog and are at all worried about your dog getting away. This is also the perfect time to point out specific routes you might take or to ask questions about the pet sitter's training techniques. If your dog wears a specific type of training collar, make sure the pet sitter knows how to use it.
4. Ask if he or she is insured.
All professional pet sitters should carry pet sitting insurance. Don't bother hiring someone who does not.
5. Ask for references.
If it makes you feel better to hear from a few others who have hired this pet sitter, it's OK to ask. All pet sitters should be able to provide references upon request. Additional safety tips: Make sure the pet sitter has emergency numbers for your pet's veterinarian before you leave town. Also make sure your dogs and cats are wearing dog ID tags. You just never know when they could slip out the door, and that would be extra stressful if you are out of town. Make it easy for your pets to get home. Have you ever hired a professional pet sitter?