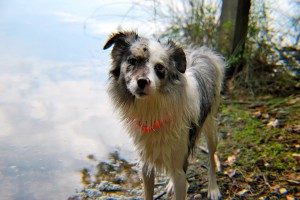 Today is National Dog Day, a day where we celebrate man's best friend and bring awareness to the many worthy dogs that need a home. Dogs are great companions, always there to comfort us when we're sad and make us laugh with their antics. They deserve some appreciation!


With that in mind, here are the top 5 things you can do today to celebrate.
National Dog Day
1) Adopt a Dog
Obviously this doesn't work for everyone, but if you've been thinking about it and have yet to pull the trigger, today is the day! Many local shelters and rescues have special adoption offers this week, so it's a great time to give a fur-ever home to a deserving pooch.
2) Buy Your Dog Some New Gear
You get to update your wardrobe for special occasions, so why not spring for a new ID tag or collar for your dog? You'll feel good knowing that their new stylish accessories not only show off their personality, but also keep them safe if they should get lost.
3) Take Your Dog on an Outing
Dogs love new experiences whether it's having a play date with their furry friends, checking out a new dog park or going to the beach. It may not seem like a grand adventure to you, but it sure will be for them!
4) Try Out a New Treat Recipe
There are so many nutritious and delicious dog treat recipes you can try out on your pup. If your dog loves fall flavors, why not try out Amanda's recipe for Pumpkin Peanut Butter Dog Treats?
5) Give Back to your Favorite Dog Charity
Whether you volunteer at a local shelter or donate money to a rescue organization, any gift makes a big impact on the lives of shelter dogs.