Dear Pet Parents,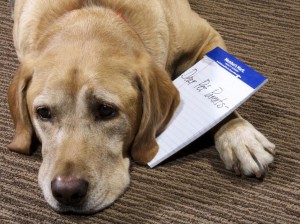 As Spokesdog of dogIDs, I would like to wish everyone a very Merry Christmas!
This Holiday Season, I am especially grateful for my dogIDs office family and all the dogIDs customers. And treats. In no specific order…
Thank you so very much to all the customers who have chosen to shop at dogIDs. Thanks to you, I can come to work and help my work family improve the lives of other dogs daily!
Anyway, I hope everyone has a Paw-some Christmas and a Happy New Year. This year, let's live like someone left the gate open!
Sincerely,
River
P.S. My apologies to everyone at dogIDs for my super-sneaky garbage can raids. Sometimes I just can't help myself…