We know you'll do anything for your Fur Baby. Want to show them how much they are loved? Celebrate your pet's birthday!
Don't know their birthday? Use their "Gotcha" day or Adopt-iversary as your dog's birthday event!
Here are some ideas for your pet's next party.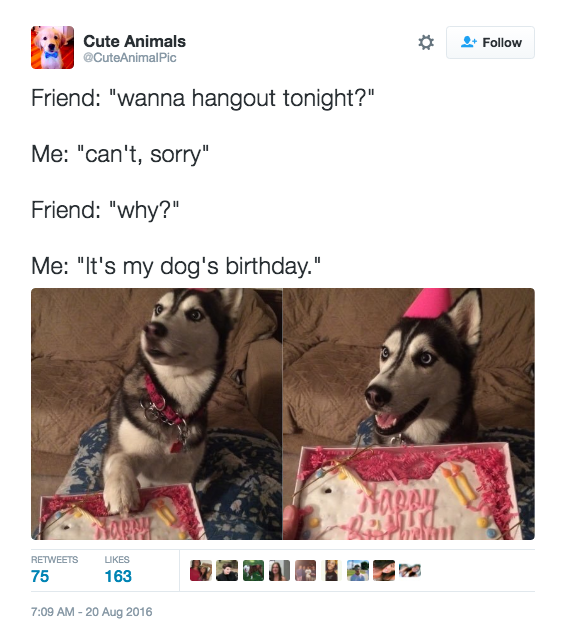 How To Throw Your Pet an Amazing Birthday
"Pawty Games"
Once your invites are sent, it's time to start planning! No birthday party is complete without a few games. Try out a trick competition, "Pin TheTail on the Dog" or a treat hunt!
Cake Time
Need a dog-friendly cake that your pet will love? Our office dog, River, recommends this doggie cake recipe:
Cake:
1 cup flour1/2 tsp baking soda1/8 cup coconut oil (vegetable oil will work too)1/4 c peanut butter1/2 cup unsweetened apple sauce1/2 cup pumpkin puree1 egg
Frosting:
1/2 cup plain greek yogurt1/4 cup peanut butter. Preheat oven to 350. In a large bowl, mix dry ingredients. In a separate bowl, mix oil, peanut butter, applesauce, and pumpkin. Once combined, mix in the egg. Combine wet and dry ingredients. Pour into a greased 8x8 pan. Bake for 25-30 minutes. Cool and frost.
Doggie Bags
At the end of the night, be sure to send your guests home with fun treats for your dog friends and their humans. A dog bone or toy work great, and for the humans, a cup of puppy chow!
How do you celebrate your pet's birthday?