Summer's the perfect time to soak up some sunshine and get away from work, school, or whatever other responsibilities you may have. While you're heading to the lake, trekking the trails, or exploring within your own city, don't forget to take Fido with you!
Dog's make great vacation buddies and there are plenty of areas, local and not, that are dog-friendly.
North Dakota
Mandan/Bismarck
In North Dakota's state capital and its sister city, there are great areas to hike, walk, bike and jog with your best friend.
Fort Abraham Lincoln State Park features rolling hills, beautiful views, and gusty winds. You can also get a taste of history: Fort Lincoln has original earth lodges from the native Mandan people for humans and (leashed) dogs to explore, in addition to old military forts that visitors are able to enter.
Located in Mandan, ND, Roughrider Trail is part of the Rails-to-Trails Conservancy which seeks to transform old rail lines into walkable paths. Take your dog along this inventive new path, which is also right alongside the mighty Missouri River.
North of Rugby
Up north, on the border between North Dakota and Canada, is the International Peace Garden. Filled with beautiful flowers, the International Peace Garden is a welcome place for leashed dogs. Explore large, flourishing flower beds or walk through wooded trails with your pup.
Medora
Theodore Roosevelt National Park is located way out west, in Medora, North Dakota. Unlike most of North Dakota, this national park features rolling hills and beautiful vistas, as well as active wildlife that includes birds, deer, and bison.
It's important to note, however, that only leashed dogs are welcome in the park and may not enter trails or backcountry, as they may agitate the natural wildlife and cause safety hazards.
Restaurants/Breweries
Of course, you can't go on vacation without eating like the locals do. And in North Dakota, that involves plenty of breweries.
In Fargo, ND, travelers will encounter lots of pet-friendly places that also feature delicious food and beverages.
Wild Terra Cidery specializes in tasty ciders of all palates, from dry to sweet. They also have some local beers on tap, meads, and a variety of wines. Pets are welcome at one of their many outdoor tables.
A taste of Germany in the heart of Fargo, Würst Bier Hall serves up lots of local beers and plenty of traditional and delicious meals, including bratwurst, kielbasa, and sausages. The outdoor patio is a haven for your pup, who will probably love the smell of smoked sausages.
If you have a wicked sweet tooth, Silver Lining Creamery in Fargo (as well as Rapid City, South Dakota) will satisfy your taste buds. Boasting a wide variety of handmade ice creams, that are sweet and even spicy, Silver Lining Creamery also has pup cups. Your and your dog can enjoy a chilled treat outside and watch the comings and goings of the downtown Fargoans.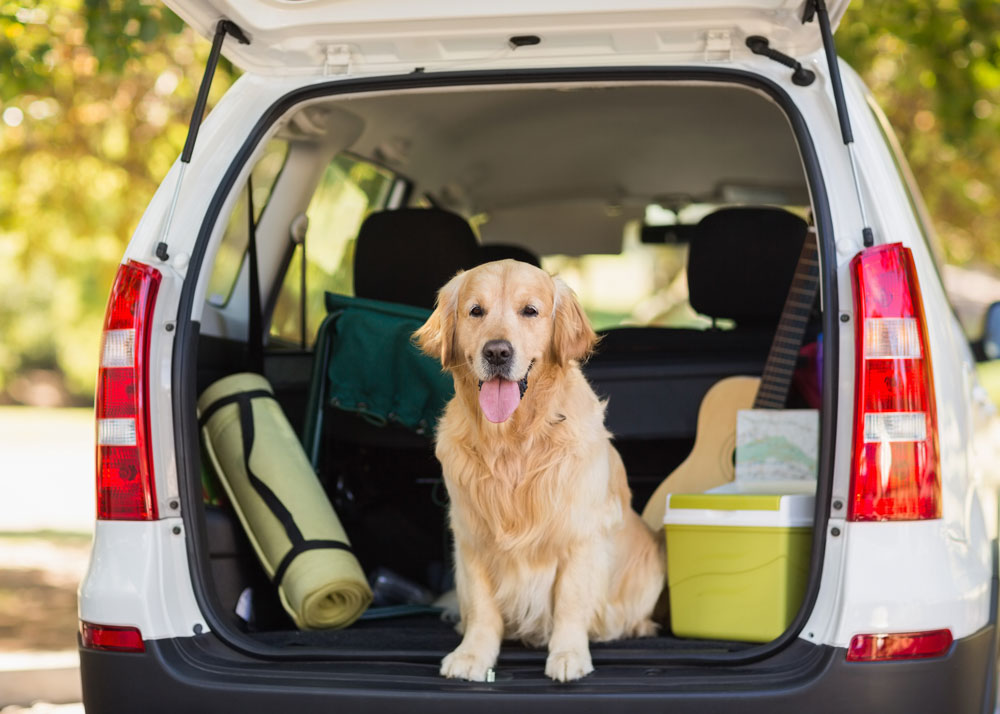 Minnesota
Minneapolis
In the Twin Cities, there's plenty to do with your best friend:
Love to read? Birchbark Books welcomes well-behaved and leashed dogs among their collection of carefully selected books - most of which are written by Native American authors, poets, writers, and more. Browse this unique bookstore will your four-legged friend.
Minnehaha Park
Minnehaha Park is perfect for dogs that love to explore. The park features the beautiful Minnehaha Falls, access to the Mississippi River, and plenty of hiking trails that allow you to explore all that nature has to offer.
In order to gain admittance, dogs are required to have an off-leash license, and owners should bring quarters for the parking meters located at the entrance to the park.
Minnesota Sculpture Garden
Take in art and the outdoors at Minneapolis Sculpture Garden, run by the modern art museum Walker Art Center.
The Sculpture Garden features 40 works of art on 11 acres, complete with flowers, benches, and more to keep you and your dog preoccupied. Leashed dogs are welcome.
Duluth
Minnesota Point
Up north, on the beautiful Great Lake Superior, is a three-mile-long beach that allows dog owners to explore the lakeside with their pet. Walk along the beach, taking in the lake; explore the old Minnesota Point lighthouse; or wander through easy trails in the nearby forest.
Lake Elmo
Vali-Hi Drive-In
If you love movies, and your dog loves movies, then look no further than Vali-Hi Drive-In in Lake Elmo for nights filled with fun for all members of the family - including your pet! Visit their website to see currently playing movies.
Anoka
PUCCI Power Yoga
Do the downward dog with your dog at Anoka's PUCCI Power Doga. Yogis of all levels are welcome to bring their pets into classes that range from introductory to advanced.
Restaurants/Breweries
The Minnesota area has lots to offer when it comes to great food and great drinks.
Located in Minneapolis, Modist Brewing Company allows your pet to join you in enjoying some of their unique craft beers. Enjoy some delicious food, gorgeous art, and live music - all with your furry friend!
Also in downtown Minneapolis is Twin Spirits Distillery, a pet-friendly establishment serving up a variety of cocktails. You can also take a tour of the establishment and see exactly how your drinks are made - from the very beginning!
Featuring a brewery on-site, and allowing dogs indoors and out, Excelsior Brewing Company (located in Excelsior, Minnesota) lets you enjoy the beautiful Lake Minnetonka while sipping on some locally crafted brews. There's a lot more than beer to this establishment - Excelsior Brewing Co. also has plenty of events that add a level of enjoyment to your visit.
To explore more places to visit with your pet, visit BringFido.com.