Sure, you might recycle your cans and use CFL lightbulbs, but have you "greened" your life for your pooch? There are several things pet owners can do to be more environmentally conscious. Here's a roundup of some of things you can add to your own routine to be a bit more green.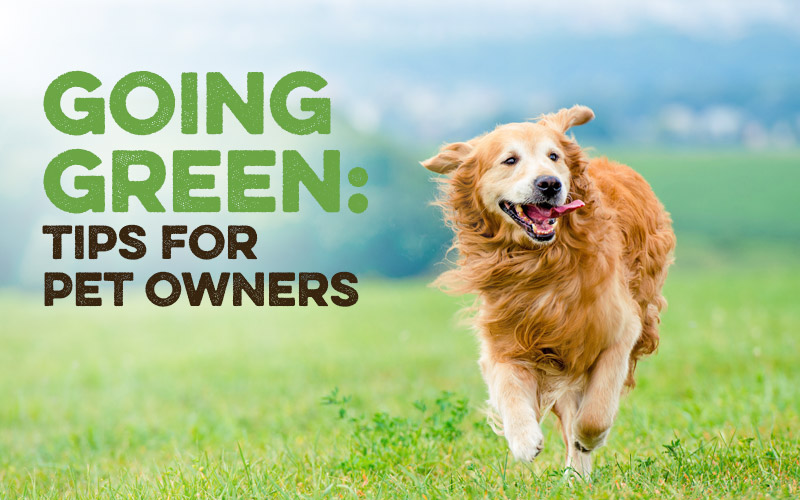 Going Green
For Dogs
-Pick up their poop. As we shared in a past blog post, pet waste is actually considered a pollutant. It can be harmful to the soil and can even seep into waterways and our drinking water.
-Use biodegradable poo bags or dispose of waste properly.
-Groom smarter. Watch your water consumption in baths and don't keep the faucet running while you're sudsing up your pup. Also consider using a more eco-friendly shampoo with fewer chemicals.
For Cats
- Use an eco-friendly cat litter. Most clay litters are not biodegradable and have a much larger carbon footprint. Try a natural litter alternative, such as a wood or corn-based litter, or even one made from recycled newspaper.
- Be resourceful with the litter bags themselves. Sister Eden recommends using items that are already going to the landfill to use for litter disposal instead of using a bag that otherwise wouldn't be thrown away—things like empty chip bags or cereal liners.
For All Pets
- Shop locally for food, toys, treats (some farmer's markets even sell locally grown or made treats!) and other products. While you're at it, buy in bulk to save trips to the store. Or, be ambitious and try to make your own food and/or treats!
- Be resourceful with toys. You know how some pets often don't play with the actual toys you get them but prefer milk rings or old socks to throw around? Surrender to their preference and stick to the stuff they actually play with in the first place.
- Get out and walk. Teach your dog great leash manners and then walk or bike with your dog more often than drive, Dr. Jena Questen, a veterinarian and life coach, suggested. This is especially handy in large, congested cities that are dog-friendly.
- Recycle and donate old items. Instead of tossing old toys, beds, leashes, etc., in the trash, see if a local rescue group could use them. Most welcome any donations in nice enough condition. If it's too used, try asking your city if it's recyclable. And always remember to recycle any cans used for food!
-Likewise, buy new items made from recycled materials. Collars, leashes and bedding can be made from hemp, which is a more sustainable and Earth-friendly material.
- Look for organic or toxin free cleaning products to clean up the inevitable puke and potty messes that come with having pets.
- Feed a high-quality diet with no byproducts, fillers or artificial additives. Dr. Jena Questen, a veterinarian and life coach, says you can also consider feeding your dog a vegetarian diet. (But please keep in mind cats are natural carnivores!)
- Plan an eco-friendly afterlife plan for your pets. Consider something like Peaceful Pets Aquamation, a new environmentally sensitive pet afterlife service that uses alkaline hydrolysis to accelerate the process of natural decomposition. This offers an alternative to cremation, a process that releases fumes into the atmosphere and takes considerable energy.
- Adopt; don't shop. Rescue your next animal companion – it's one easy way to not support puppy mills, plus you potentially save a pet's life. And always remember to spay and neuter!
Do you have any more tips for living a "green" life with pets?
Want more pet owner tips? Check out these blogs.
Top 10 Tips For Responsible Pet Ownership