In the midst of your holiday baking, you look over and see your dog giving you those giant puppy eyes. Your countertops are filled with delicious treats, but unfortunately, your pup can't have any. While you've still got your mixing bowls and cookie sheets at hand, why not whip something up that you and your dog can enjoy together?
Holiday Treats for Your Pup
Here are a few treats that are easy to make and will give your dog a taste of holiday spirit.
Gingerbread Dog Cookies
Give your pup the most classic of all holiday treats - Gingerbread Cookies! Not only are these cookies easy to make, but you can also decorate them. A great, dog-safe frosting idea is to use melted yogurt chips.
Ingredients: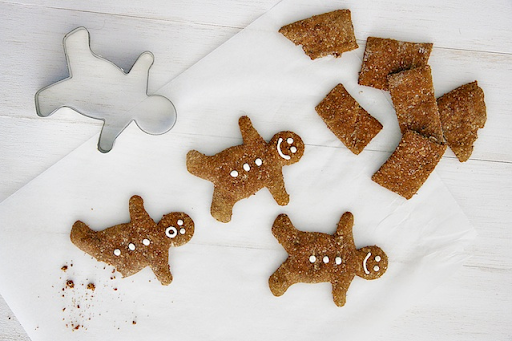 1 cup Molasses
4 tablespoons Honey
1 cup Water
½ cup Vegetable Oil
6 cups All Purpose Flour
2 teaspoons Baking Soda
1 teaspoon Cinnamon
1 teaspoon Ground Cloves
2 tablespoons Chopped Ginger






Directions:
Preheat oven to 350°F. Combine molasses, honey, water and oil in large bowl. Mix flour, baking soda, cinnamon, cloves, and ginger in medium bowl. Slowly add dry ingredients to wet ingredients. Divide dough into four balls, wrap in plastic wrap, and refrigerate for 3-5 hours. Then, lightly flour your surface and roll out dough until about 1/4 inch thick. Cut out your gingerbread men. Bake for 20-25 minutes. Enjoy!
Mint Dog Treats
These treats will leave your pup with minty fresh breath. They look like they're dipped in chocolate, but it's actually carob. Carob is a safe alternative that has a chocolate-like taste. It is a legume and can be found in the baking section of your local grocery store.
Ingredients: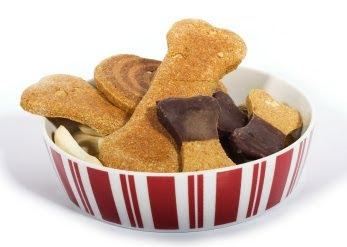 1 cup Flour
1 cup Baking Mix (Bisquick or Jiffy)
5 drops Mint Flavoring
1/4 cup Milk
2 tablespoons Margarine
1 Egg
1 teaspoon Corn Syrup






Directions:
Mix all ingredients and roll out on a floured surface until 1/4 inch thick. Cut out with a bone shape cookie cutter. Spray a cookie sheet and place cookies. Bake at 350°F for 25-30 minutes. Let the cookies cool, then dip them halfway into melted carob.
Sweet Potato Holiday Dog Treats
These treats will have your home smelling so yummy that you're pup won't be able to wait to eat them. They are packed with delicious, wholesome ingredients. These are also a great treat to gift to all the pups in your life.
Ingredients: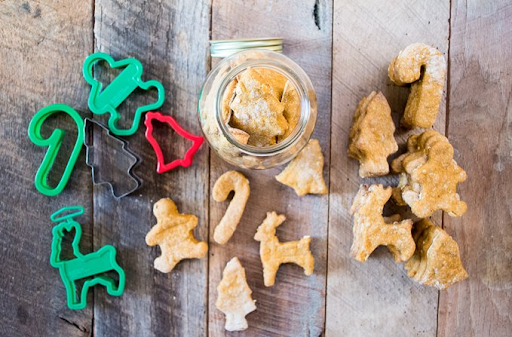 2 cups Fresh Sweet Potato Puree
1 Egg
1/2 cup Oats
3 cups Whole Wheat Flour
3 tbsp All Natural Peanut Butter
1/2 tsp Cinnamon







Directions:
Preheat oven to 350°F. Peel and cube two medium sweet potatoes and bring to a boil in a pot of water. Reduce to low and let simmer for 15-20 minutes, or until soft. Drain and puree using a blender. Stir together flour, oats and cinnamon in a small bowl. Whisk egg, sweet potato and peanut butter in large bowl until well combined. Stir wet ingredients into dry ones. Roll out dough onto a floured surface until 1/4 inch thick. Cut out into fun shapes. Bake for 30-35 minutes then let cool.
Your pup is sure to love each of these holiday doggie recipes. As these treats are not a regular part of your dog's diet, make sure to moderate their portions.
Looking for a great doggie stocking stuffer? Check out some dog approved treats that your dog will love.