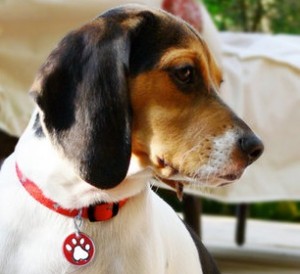 Here at dogIDs we understand the importance of pet ID tags, and we want to encourage all pet owners to put collars and tags on their pets.
The following are just three examples of dogs who were reunited with their owners after getting lost. In all three cases, the fact that the dogs were wearing ID tags made all the difference.
You just never know what can happen, and we hope these stories will remind other dog and cat owners how important ID tags can be.
If you have ever lost dog or cat, please share your story in the comments section.
ID Tags Saving Dog's Lives
Jack the Boston terrier
a Doug Bates hiked with his Boston terrier Jack many times over the years.
"Jack was good about sticking with me, although he would get out of sight or earshot periodically, requiring me to call him," Bates said.
He said Jack always wore a harness with a bell and dog ID tag on these hikes.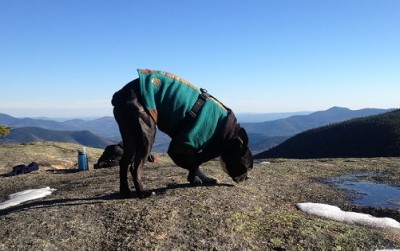 "One thing I failed to factor was that Jack was always most excited at the very beginning of the hike," Bates said. "For one hike there were two possible ways to go at the trailhead. I went one way. Jack went the other."
Bates said he noticed this quickly and called Jack while trying to catch up.
"I spent the next 2.5 hours wandering, looking for him," he said.
Meanwhile, Jack had gone back to the car, where someone spotted him.
"The person who picked him up figured that a small dog wearing a harness with a bright red tag and a bell on it wasn't supposed to be wandering on a road," Bates said.
The tag had Bates' cell number on it, and he got his dog back a couple hours later.
As he approached his car, he said "Jack saw me and clearly became excited, looking forward to being reunited."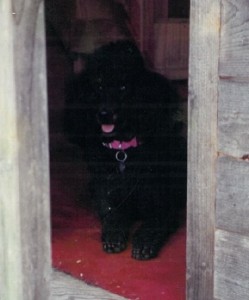 Angel the poodle
Viveca Stone-Berry left her 11-year-old poodle Angel with her boyfriend while she left for the weekend. Angel's typical routine was to sit right by the door waiting for Stone-Berry to return.
"She'd keep this vigil for at least the first two to three days," Stone-Berry said.
In this case, there was a storm the first night Stone-Berry was gone.
"The door wasn't fully closed and was blown wide open," she said. "Angel took off looking for me."
Hours later, her boyfriend and his son noticed the door and the missing dog.
Luckily, a woman had been out walking her dog that evening and noticed Angel. While she was unable to catch her, a neighbor gathered up some friends and they caught Angel just before she wandered onto a very busy street, Stone-Berry said.
"I'm lucky they even saw her," Stone-Berry said, considering Angel was a black dog.
Thanks to her ID tags, Angel was returned.
"Without the ID tag, she would have been turned into animal control, been frightened out of her mind and received unnecessary vaccinations," Stone-Berry said.
Since then she has bought lots of ID tags for neighbors and friends and numerous foster dogs.
The tags include a phone number and read "I am a loved dog. Please return me."
Queenie the cocker spaniel
Dennis O'Neill was in first grade when he and his cocker spaniel Queenie were playing outside on a cul de sac where they lived.
He said he was about 200 feet away when a car came to the end of the road and began to turn around.
"The car hit Queenie, and before I could get there, the driver picked her up and put her in his car and drove away," he said. "Pretty shocking from where I stood."
His mother came outside to see what the commotion was about, only to see the car disappear at high speed down the street.
About an hour later, O'Neill and his mom got a call from the driver who had hit Queenie. It turned out he was a veterinarian and since he hadn't seen anyone around, he took her to his animal hospital to treat her.
"She had only minor injuries and, thanks to her dog tags, was able to contact us and would be bringing her home soon."
Have ID tags ever saved your dog or cat?