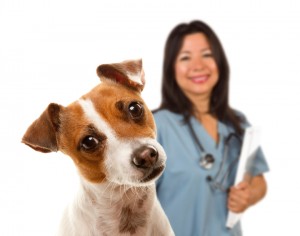 So, you've adopted a puppy or new dog. Now, the big question...How to choose a veterinarian that aligns with you and your pet's needs?
You can assume all veterinarians are experts on canine and feline health, but that doesn't always mean they are good with all types of dogs and cats. It also doesn't guarantee they have good communication skills around people.
I thought I'd share a few ideas to think about when choosing a vet, because you want to find someone who makes both you and your pet comfortable.
How to choose the right vet for your dog or cat
Ask other dog and cat owners who they would suggest.
Start out by asking your local dog-owning friends which veterinarian's office they use. Even if there is only one vet in your town, some of your friends might take their pets to a vet in a nearby area. Maybe the care is better there, or maybe the prices are more reasonable.
Ask your friends and neighbors what they like about the vet they use and what they don't like. You can also read online reviews through Google+, Yelp and Facebook to see what other people are saying.
Compare prices.
Prices do vary from office to office, and while you probably wouldn't mind paying a bit more for better care, why should you pay twice as much for a routine exam or vaccinations? It is worth calling a couple veterinary offices in your area. Some questions to ask related to prices could include:
What do you charge for basic exams for dogs? And for cats?
How about for senior pets? (Some will charge more for senior exams)
What are the prices for routine vaccinations such as rabies?
Do you offer any discounts for multi-pet households?
What do you charge for a spay/neuter surgery?
What do you charge for dentals?
Do you accept Care Credit (a health credit card)?
Find out the vet's approach to vaccinations.
You probably don't want your dog or cat vaccinated every single year if it's not necessary, but some vets still recommend it. Too many vaccines may be harmful to your pet's health, and no one wants to pay for something that's unnecessary.
Dr. Cathy Alinovi is a veterinarian and the owner of Healthy PAWsibilities. She said it's best for your dog if you find a vet that offers 3-year vaccines. (Although, some areas will still require annual rabies vaccines for dogs and cats by law.)
Ask about hours and how emergencies are handled.
Some vet offices close at 5 p.m. every weekday while others remain open in the evenings. Some are open on weekends, and some are not.
Think about your schedule and what hours would be the most convenient for you.
It's also a good idea to ask how the vet handles emergencies. Does this particular office handle emergencies as they come in? Does it send them elsewhere? If so, where is that hospital located? Knowing this is important in case your dog is ever in need of emergency care on a Saturday or in the middle of the night. I don't know about you, but my animals always seem to get sick on the weekends.
And for non-emergencies such as spay and neuter surgeries, Alinovi suggested pet owners ask about how long a dog will be required to stay for recovery.
"The shorter, the better," she said. "Overnight is not necessary."
How does the vet approach nutrition?
Alinovi supports raw diets for dogs and cats, and she recommends pet owners find a vet who also supports raw diets, even if this may not be the best food for your pet.
If the vet is supportive of raw diets, it shows she understands healthy nutrition , Alinovi said. "The vet will understand food is the biggest thing we do for our pets, so it should be the best quality possible," she said.
Other topics to consider:
If you have a dog that is nervous, aggressive or fearful at the vet, you will want to make sure to find someone who is tolerant, patient and experienced handling all sorts of dogs. The same is true if you have a fearful cat.
If it's important to you to use natural products such as natural flea and tick prevention products, you may want to find a vet who is supportive of this vs. the chemical alternatives.
And finally, ask yourself if this person is someone you are comfortable talking to. Does she take the time to listen to your concerns and answer your questions?
When you chose your dog or cat's vet, what factors were important to you?