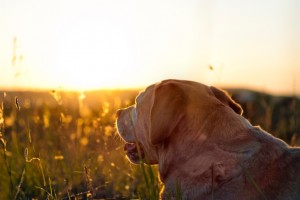 Sept. 8 is National Pet Memorial Day, and pet lovers around the country will be taking part in events to remember their pets. I am not a grief expert by any means, but if you have recently lost a pet, I'm so sorry. The following tips are written from one pet lover to another on
how to emotionally cope with the death of a pet.
1. Realize everyone grieves differently.
People deal with loss in different ways. There is no right or wrong way to grieve. We all do so in our own ways, at our own paces. This is especially important to keep in mind if you live with family members or roommates. Just because someone expresses her grief differently than you does not necessarily mean the person is feeling any less sad.
2. Some people won't understand the significance.
Some of the people you are close to won't understand the significance of losing a pet. This was one of the hardest things for me when my golden retriever died. Some of my friends, who had never loved a dog, shrugged it off like it wasn't that big of a deal. They said things that suggested, "It's just a dog." But losing a pet is a huge deal! In these situations, I recommend you reach out to a dog- or cat-loving friend who has been there.
Another friend of mine recently lost her dog and she told me she felt guilty for the deep sadness she felt over an animal. When you think about it, though, many of us are closer to our pets than we are with most of the humans in our lives, even family members.
We care for our pets when they are sick. We cry with them when we're sad. Sometimes we let them sleep in our beds. We share all kinds of memories with our pets, and they are with us through major life events - both the positive and the negative. Losing a pet is a huge deal, so don't feel like you have to hide its impact.
If someone you know has recently lost a pet, you may want to consider sending a sympathy card or a gift to honor the pet such as the dogIDs signature memorial dog tag or a personalized engraved keychain.
3. Plan a special day for your pet.
If you know your pet's time is limited, plan a special day for your pet where you do some of her favorite things. Take lots of pictures, and take the time to really enjoy the day.
For example, a perfect day for my dog would involve eating hamburger, playing fetch and going for a slow stroll through a favorite park. I'm sure he'd also love to see some of his favorite dog and human friends. A perfect day for my cat would involve hours of cuddling and a buffet of bacon!
4. Create a way to remember your pet.
If you have photos of your pet (and who doesn't?), you might want to put together a photo album as a remembrance. This may be a great time to ask friends for help. Sometimes our friends really want to help, but they're not sure what to do. Some might even have photos or memories of their own to add to the album. You could also print out a few favorites and frame them.
In remembrance of your pet, you could also consider a 3D printed pet urn. These are custom made to represent your beloved dog. Other options could include placing a memorial stone in your yard, planting a tree or making a donation to a shelter or rescue group in your pet's honor.
Again, if you have recently lost a dog or a cat, I am so sorry for your loss.
What has helped you cope with the loss of a pet?