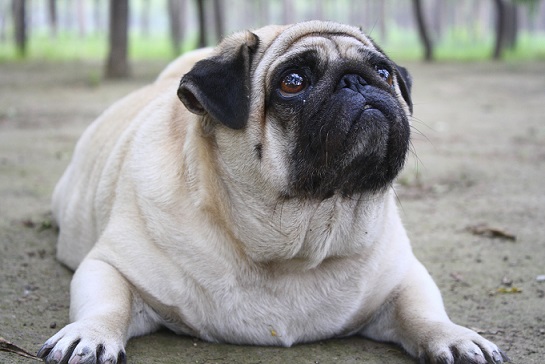 It's hard enough for some of us to stick to our own healthy eating and exercise plans, so it's not surprising so many of our dogs are overweight.
Besides the obvious - eat less and exercise more - this post includes some tips on how to help an overweight dog return to a fit and healthy state. I hope you'll also share some of your own tips in the comments section.
How to help a dog lose weight
1. Feed a high-protein diet vs. a high-carb diet
Many of the commercial pet foods marketed as weight-loss formulas are high in carbohydrates, according to the Whole Dog Journal. This is also the case with most prescription weight-loss diets.
Protein is used to build lean muscle, while carbs are more likely to be stored as body fat, the article said. Therefore, diets to help your dog lose weight should be high in protein and low in carbs.
While the weight-loss formulas may include fewer calories per serving, you may be better off feeding your dog a high-protein diet. You would just need to feed smaller portions. That's the hard part!
2. Weigh your dog regularly
If your dog only sees the vet once a year, then that may be the only time your dog is weighed. Sometimes that number is a bit shocking! "What? Chester really gained 9 pounds last winter?"
You can weigh your dog at home on your own scale by weighing yourself first and then weighing yourself again while holding your dog. Or, most veterinarians won't mind if you stop by the office every couple of weeks just to use the scale in the lobby area.
3. Get creative about exercising
Obviously, if you are not walking your dog every day, then that should be a priority. Start out with a reasonable goal such as walking your dog for a half-hour every morning. Then, increase the time a little if your dog seems comfortable.
Another idea to help your dog burn extra calories is to have him wear a dog backpack on his walks. You could also run with your dog for a few minutes, take your dog to an off-leash dog park or sign up for a dog sport such as agility or tracking.
Even an obedience class can help keep your dog moving because these classes often involve lots of work on loose-leash walking.
4. Measure your dog's food
Make sure you know exactly how many calories your dog is eating per day. If you feed a commercial food, that information should be right on the bag.
Once you know how many calories your dog is eating each day, then you know to decrease that amount slightly.
Don't forget to count treats and table scraps. If your dog needs a lot of treats for training, just cut back on his regular food or use part of his actual meals for training. For low-calorie snacks, try giving him some carrots or green beans.
If you prefer to leave your dog's food out all the time, that's OK as long as you are measuring the food vs. just keeping the bowl full. I'm sure we all know a few dog owners who are guilty of not measuring the food when they "free feed."
5. Consult with a veterinarian.
This goes without saying, but if your dog is having trouble losing weight, it's always a good idea to consult with a veterinarian to rule out any additional medical issues that could be affecting your dog's weight.
What are your weight-loss tips for dogs?
Want more health tips for your dog? Check out these blogs.
What Treats Are Best For My Pet?