Including your dog in your wedding has become a popular trend these past few years, and it makes sense! Your wedding day is one of the most important days of your life, so for a fellow dog-lover, it seems strange not to include your furry best friend in some way.
We've seen dogs be a part of weddings in many different ways - from the flower girl, to Dog of Honor, joining for pictures, or as a part of the reception. There are plenty of ways to include your dog in your special day and keep it low-stress for everyone. Here are some fun ways to include your dog in your wedding, and tips to make it a pawsitive experience.
Dog of Honor, Flower Girl, or Ring Bearer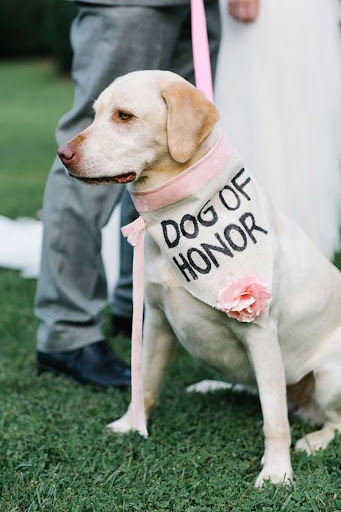 Speaking of dogs in weddings, have you thought about your dog joining you in the wedding party?!?! Make her the Dog of Honor by dressing her up in a flower collar or a bandana that matches your wedding colors. She can walk down the aisle either by herself (she will probably run down the aisle when she sees her pawrents), or have a bridesmaid or groomsman walk with her on a leash. Either way, it will be the cutest part of the ceremony!
You can also give your pup a special job as the flower girl or ring bearer. With a little training, you can teach your dog to hold a basket of flower petals in their mouth as they walk down the aisle. Dress her up in a flower collar, or our soft grip collar in white to match Mom. Include your dog as the ring bearer by fastening a ring pillow on the back of his collar, and securely tie the rings on the pillow. Make sure to practice a few times so they get used to the feeling of the pillow on their neck.
Tips to keep it low-stress:
Assign a friend to be your dog's handler for the day - Ideally someone who is not in the wedding party, and who knows your dog. From car rides, to meal time, and finding quiet places to rest - you'll want your dog to have someone to look after them and keep them safe during such a long and hectic day.
Adjust your expectations - it might not go exactly as planned! Your dog may have other priorities in mind, like stopping to get a belly rub halfway down the aisle, or they might get restless during the ceremony. It's okay! Chances are, your guests will think anything your dog does is cute as heck.
Just pictures
If your venue doesn't allow dogs inside, you can still include your pup in outdoor photos. Have a trusted friend bring your dog to your photo location to snap a few pictures. This is a great, low-stakes way to incorporate your pup in the day, and have photos to cherish furever.
Tips to keep it low-stress:
Keep it short - plan for a 10-20 minute window for photos with your pup. Tell your photographer ahead of time, and share any specific poses you want beforehand too.
Give them time to adjust - There will be a lot of new smells, sights, and people for your dog. Tell their handler (your friend) to give them 10 minutes before their photos to get used to the new environment by letting them sniff around, greet people, and decompress. This should help them lower their energy level and focus for pictures.
Beware of the muddy paw - bring a towel to wipe their feet, and of course, avoid puddles and muddy patches. Chances are, your dog will be so excited to see their pawrents, and we don't want a paw print on your beautiful white wedding dress!
There in spirit
There are plenty of ways to include your dog in your wedding without them physically attending. Perhaps they wouldn't do well in a high-energy environment, or maybe your pup has crossed the rainbow bridge. You can still pay tribute to them at your reception.
Signature drinks - name your signature drinks after your dogs! An Old Fashioned could become "The Oscar," or a Cosmopolitan could be "The Sophie."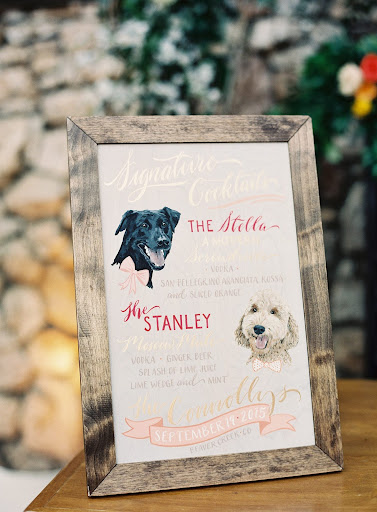 Signs - If you don't want to do signature drinks, you can still include your pups in signage throughout the reception. For example, a small sign at the dessert table that says "Grab A Treat," or at the bar that reads "Have A Drink."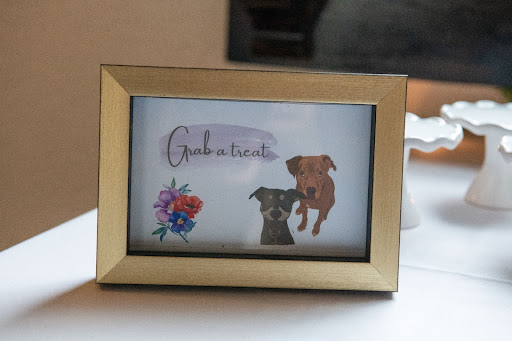 There are plenty of ways to make sure your best fur-end is a part of you and your future spouse's special day! Congratulations on your upcoming nuptials!