When shopping for a new collar for your best fur-iend, it's easy to get caught up in the colors and features. When it comes time to hit "add to cart," you might be stuck on which size to get. Don't make a guessing game out of it. Here are some simple steps to make sure your dog's new collar is the right fit.
Step 1: Choose Your Collar Type
Just to name of a few, here are some of the collars dogIDs offers.
Side Release Buckle Collar
Martingale Collar
Traditional Buckle Collar
Step 2: Measure Your Dog's Neck
If you're ordering a Side Buckle or Traditional Buckle Collar, measure your dog where he normally wears his collar
If ordering a Martingale Collar, measure your dog's neck in two places - where he normally wears his collar and at the widest part of his head (see image below)
Ensure the measuring tape is snug, but not tight
Add on one inch for small dogs, two inches for medium/large dogs, and three inches for extra-large dogs
Tip: Don't have a measuring tape? Find some string to put around her neck and measure the length of that string against a ruler.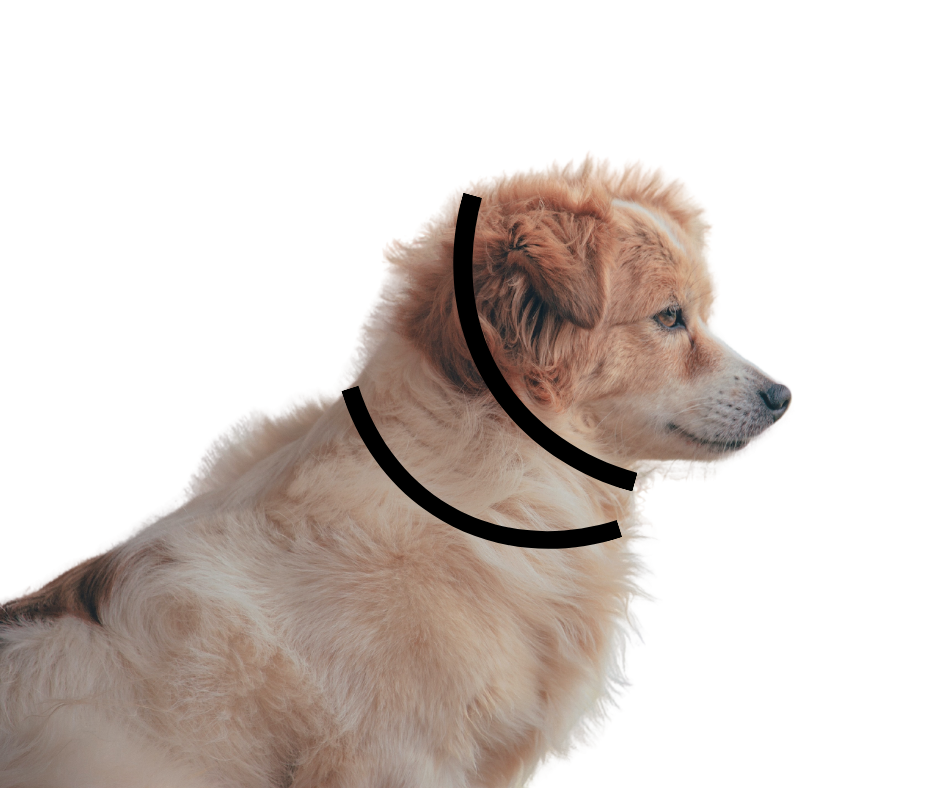 Step 3: Choose the Right Size
Available sizes for our collars are listed in the product description for all of our collars
All of our collars (unless otherwise noted on the product page) are measured to the center hole for a true neck size or will list the neck size range that the collar will fit
The measurement of your dog's neck is the size of the collar he or she needs. No guesswork is needed to buy a collar that fits your dog correctly and comfortably. For example, if you measure your dog's neck and get 16", you should pick a 16" collar OR a collar where 16" is comfortably within the size range.
Each collar will have adjustment holes above and below the middle one, so you will also get 1-2 inches of extra adjustment in either direction.
Simply measure your dog's neck for the proper collar size. There should always be enough room between the pet's neck and the collar to slip one finger between them comfortably. This ensures that the collar isn't too tight.
Other tips:
Checking the fit

Make sure there is enough room for two of your fingers to fit in between the dog's neck and the measuring tape

Consider their fur

If your dog gets regular haircuts, make sure to measure the dog right after grooming. You can adjust the length depending on how long their fur is and make sure it always stays comfortable and safe

Check their collar

If your dog is growing, or their weight fluctuates throughout the year, make sure to regularly check their collar size with the two-finger rule. If you can't fit two fingers between their beck and collar, or if you can fit more than two, it's time to make an adjustment.
If you're wondering what collar is right for your dog, read our blog How To Choose the Right Dog Collar for your Dog.