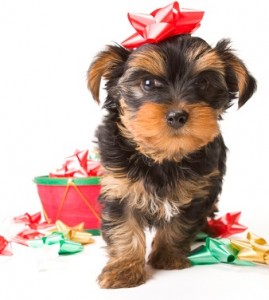 With the holiday season coming up, you can't forget about your four-legged friend! For some easy gift ideas, we are sharing a few of our favorite dogIDs products.
Here are some great holiday-themed dog gifts!
This tag is perfect for the holidays. Whether you're going to holiday parties or hanging out at home, this tag will show your dog's festive side. You can add their name and other pertinent information to it too!
Christmas Dog Collar.
What better way to treat your pup than with a brand new collar? Nothing screams Merry Christmas more than a festive dog collar.
Dog Breed Ornaments
Make your pup feel a part of the family with their own ornament for the Christmas tree. There are over 100 breeds to choose from!
Don't want your gifts to scream Christmas? Check out some non-holiday themed gift ideas for your furry friend!
Eco-Friendly Dog:
Durable "Jive" Ball
This ball is tough and good for the environment and it's perfect for the dog that loves to play fetch. Comes in different colors and it is made right here in the USA!
Quirky Dog:
Fabric Dog Collar Bow Tie
This collar accessory classes up your pooch for social events or just lounging around the home. Attaches easily to their collar with Velcro!
Sports Fanatic Dog:
Love the Vikings? Packers? Or are you more of a baseball fan? Now your dog can also wear your favorite team's colors!
Classic Dog:
It's no secret that dogs love treats. We have a wide selection of top quality, natural dog treats that make the perfect gift.
Hopefully, this gave you an idea what to get your furry friend for this holiday season!
What gift are you getting your pup this Christmas?