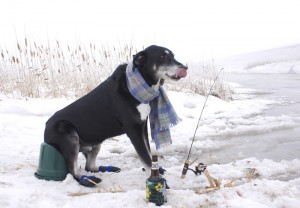 Buzz the Dog Model
The dogIDs team recently ran across Ann Flower's photos of her dog, Buzz, posing in a hilarious variety of photos. When we found out that she and Buzz live in nearby Grand Forks, ND, we knew we had to learn more about this talented pooch. .
Let's Learn About Buzz
How old is Buzz?
Buzz is 11 years old. Actually 11 1/2 now.
How did Buzz join your family?
He was adopted from a local shelter, Circle of Friends Humane Society, by our neighbors. At the time, we had two other dogs. The neighbor was a single father with three active boys and they were often away from home with soccer and other activities. Buzz started spending a lot of time at our house because he adored our two dogs. After the neighbor remarried, he and his new wife had a new home built and we all decided that Buzz should stay with us – he felt at home with us, and he loved our dogs. So he stayed!
What type of dog is Buzz?
I honestly have no idea what breed Buzz has in him. He is large, about 85 pounds, and hates water!
What are his favorite things to do?
He really, really, really likes to go for a ride in the car. He also likes to chew on bones and carry toys around. At meal times he likes to grab one of his toys and carry it around while "talking" to us excitedly.
What are your favorite things to do together?
Believe it or not, he really enjoys having his photo taken. I think because he gets attention and treats. He just loves to be near us and loves when we pay attention to him. We like to go for walks in our woods together and for car rides. I often take him while I'm driving around the countryside looking for birds to photograph.
How did you start having Buzz "pose" for photos?
I started photographing Buzz in 2010, but I was really a beginner photographer. That year I belonged to a Flickr group called "52 weeks for dogs" in which I submitted one photo a week of Buzz. The next year I switched to "12 months for dogs" which required one photo a month. In 2011 and 2012 Buzz and I did 12 months, and both of us improved. My photography skills improved and his modeling skills improved. In 2013 I started "Buzz's New Adventures". It was still part of the 12 months group, but I chose to do a photo of him doing something new each month.
Are there any photos you've tried to set up with him that's he's refused to pose for?
He hasn't really refused to pose for any but that's mostly because I know what he won't do. For example, I will not even try to make him pose in or near water. Some have been much harder than others – the one of him flying a kite was the hardest because every time the kite started pulling on the stick he had in his mouth, he would drop the stick. But we eventually found a way to work it out. Others might not have turned out the way I initially envisioned, but I have learned to let Buzz choose poses that he is comfortable with.
I never would have thought that Buzz and I would create this collection of photos. When he was young, I wouldn't have thought that he would become so willing to do whatever I asked him to. He is a super good sport. If I make sure that he feels safe and understands what I want, he will do pretty much anything I ask.
Do you have any fun photos of your dog doing something new? We'd love to see it!
Send your photos and stories to marketing@dogids.com