Friday June 26 is Take Your Dog to Work Day! Will any of you be taking your dogs to work?
The dogIDs team definitely understands the benefits of having dogs in the office. You might remember our post about the company office dogs and why they're so important to the overall business.
This year, we decided to feature several other businesses that benefit from dogs in the office.
Here are four lucky dogs that get to go to work every day: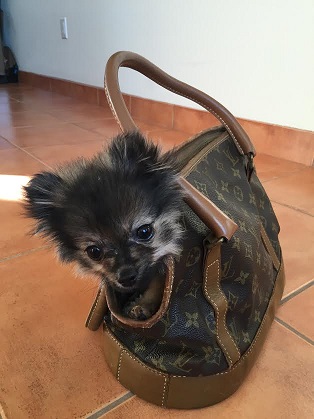 Coco the Pomeranian, JLH Media
JLH Media has its own "Chief Cuteness Officer" and that job is held by Coco the Pomeranian puppy!
Coco goes to work every day with his owner Suzanne O'Leary. Not only that, but he also goes out for drinks and dinner afterwards!
"The best part of bringing Coco to work is watching him grow up and interact with our clients and the media," O'Leary said. "My clients come to our office now, just so they can give Coco a cuddle."
Coco often hangs out in his "pack-n-play" which is furnished with food and water bowls, a baby blanket, a pink hippo, some chew toys and a pee pad, O'Leary said.
"He loves to sit in my lap, join meetings and play with my colleague's Labradoodle, Finn."
Tank the pitbull, Makana Studios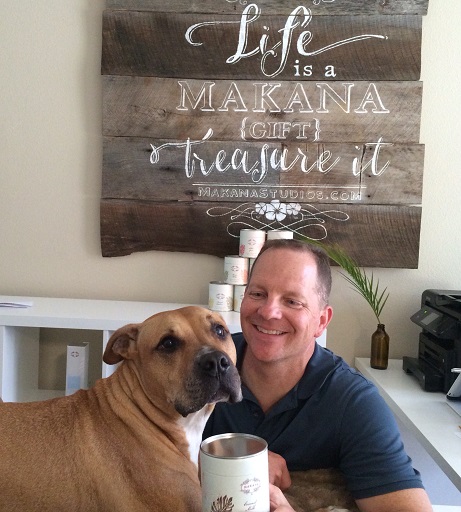 Romely Levezow and her husband bring their 3-legged pitbull Tank to work every day. She said they rescued him nine years ago after he was hit by a car and left in the street.
"His situation hasn't stopped him from being joyful and full of energy," Levezow said. "He loves greeting guests and customers and looks forward to hopping into our UPS driver's truck to say hello!"
Levezow said she employs disabled workers and Tank has become therapy for them.
"Being able to now take our dog to work with us not only brings us joy, but also allows our pup to do
what he was meant to do in life -- make people happy every day!"
Toby the dachshund, Nightingale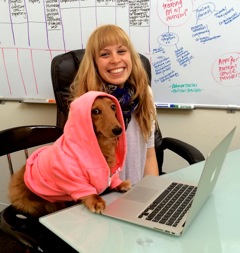 Beth McCarthy works with a startup called Nightingale, and her office building is divided into several studio spaces and offices.
"We have several awesome dogs who chill here in the different offices, including a Jack Russell mix, cockapoo, boxer and pitbull," she said.
McCarthy brings her dachshund Toby to work every day and said it's great because Toby gets to exercise and socialize.
"Before I could take him to work, he would be bored, lonely, and anxious about me getting back," she said.
She would have to rearrange her whole schedule to get home to walk him or pay for a dog walker during the day.
Not only that, but she said having Toby at work benefits the morale of the office overall.
"Since we're a startup, everyone is often working late and on mentally taxing tasks," she said. "Playing with Toby brings an instant burst of joy and energy that refreshes the whole room with a positive vibe."
Clyde the pitbull, Orange Records
Clyde is a 3-year-old pitbull who "works" at Orange Records in downtown Fargo. Orange Records is a new and used record and cd store.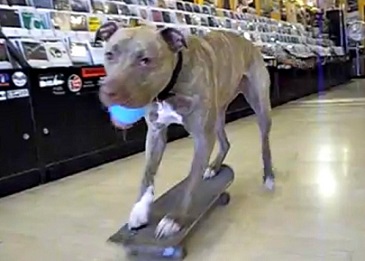 "I decided to start bringing him because I own the business and could do it," said Matt Oland, who adopted Clyde when the dog was 4 months old.
"I keep him behind the counter most of the time where he's on a leash and has a bed. He does get to hang out around the shop though too."
Oland said Clyde likes to greet customers when they come in, and his dog knows how to skateboard! See videos of Clyde on his skateboard here.
Do any of you get to take your dogs to work?
Want more fun information on office dogs? Check out these blogs.