Meet Syrus Newest Member of the dogIDs Team!
Meet Syrus: Newest Member of the dogIDs Pack!
This summer, dogIDs owners Lori and Clint Howitz added a new furry friend to their family – and so did the dogIDs team! Meet Syrus, the Great Dane. He's about six-months old and weighs 90 pounds.
Syrus was found wandering the streets of Grand Forks, ND and was held at the dog pound in Grand Forks for a week, but never claimed. 4 Luv of Dog Rescue took him in to try and find him a new home. Ashley Farkas, dogIDs Merchandising Manager, is also a long-time volunteer of 4 Luv of Dog Rescue in Fargo, ND.
Syrus' Story
Lori tells us, "Ashley found out that Syrus was being transported to Fargo where he would be put up for adoption. She knew I loved Great Danes and would one day love to have one, so she emailed me about him and sent me a picture. I was immediately in love." Lori recalls, "Ever since I can remember I've wanted a Great Dane. When I worked at the Humane Society in Woodbury, MN, I worked with a six year-old Great Dane named Sheba who stole my heart. Although we weren't able to adopt her at that time, she confirmed my love for the breed."
Great Danes
According to JustDogBreeds.com , Great Danes are known as the "Gentle Giant" as they are quite docile and calm for their size. They make great companion dogs. Great Danes are people-oriented and committed to pleasing them, which makes training them a bit easier.
However, the size of a Great Dane can be a bit challenging – we've had to be extra careful in our office not to leave food on the counter unattended! Large dogs like Syrus also need to have extra care so they don't hurt their backs or joints, since they grow so fast as puppies. He's only 90 pounds now and expected to be between 130-150 pounds, so he's going to be much bigger. Syrus uses an elevated dog bowl when he eats so that he doesn't have to strain his back to reach the bowl and a Receiver Hitch Step to help him get in and out of Clint's SUV.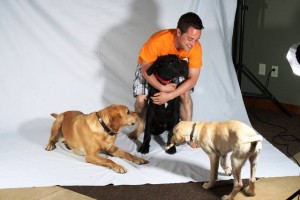 Having Syrus around the office has been very enjoyable for the whole dogIDs team. Syrus is very energetic and friendly. He loves playing with toys, like the Tizzi Zogoflex, and really enjoys wrestling with his new brother, River. Lori and Clint feel "so fortunate to have Syrus be a part of our family," and the dogIDs team does too!
Have questions about Syrus, dogIDs products for large breeds, or training tips? Leave a comment below.