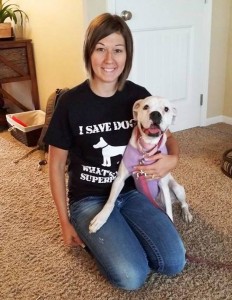 National Dog Week, the Best Week of the Year!
Attention all you party animals, it's time to celebrate canines! This week is National Dog Week, which runs through the last week in September. This barktastic holiday is said to be started by Captain William Judy in 1928 to educate dog owners about their responsibilities to their pets and communities.
Speaking of community, we wanted to honor this holiday while also highlighting one of our amazing staff members, Ashley Farkas, who is our resident Merchandising Manager. She's a champion of all things dog and we couldn't help but feature her here for you all to read about. Here's what she has to say about her own dogs and her experience being a foster for area dog rescues.
Ask Ashley
Amanda: What do you think it is about dogs that makes them man's best friend?
Ashley: The dogIDs "About Us" page hits the nail on the head for me. Dogs give us their unconditional love and are there for us no matter what. I believe that this sincere connection is what makes dogs man's best friend … and woman's best friend too.
Amanda: What are your favorite activities to do with your own dogs?
Ashley: It may sound simple, but going on walks is one of my favorite things. Walking is not only great exercise for both my dogs and I, but it's also a great activity for building a strong, trusting relationship with a dog and their owner.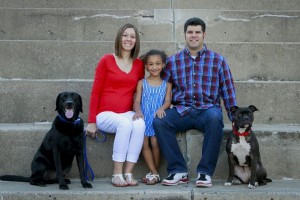 Another favorite of mine is teaching my children the proper way to interact with dogs. I am a firm believer that teaching a child how to properly treat an animal goes far beyond their interactions with dogs and is a lesson they carry with them in their human relationships as well. It has been a complete joy to watch my daughters and our dogs as they grow and learn together.
Lastly, snuggling is one of my favorite activities to do with my dogs … if you can call that an activity that is. Who doesn't love a warm, cuddly puppy to snuggle on a cold, North Dakota winter day?
Amanda: What have dogs taught you?
Ashley: My dogs have most definitely had a hand in teaching me patience. I adopted my Black Labrador Retriever, Jake, four years ago. When Jake first came home, he needed some work, to say the least. He would stand with two paws in the left side of the kitchen sink, two paws in the right side and "pre-rinse" my dishes. He once gnawed on a thawing beef roast, ate half of a sheet cake that was supposed to be for our daughter's fourth birthday and devoured countless packages of gum, a tube of poison ivy cream, golf tees, etc. This boy has done his part in keeping me on my toes and teaching me not to worry so much about the little things.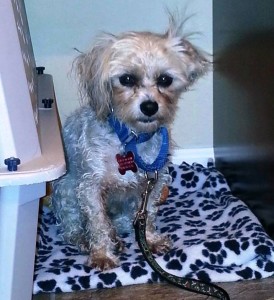 Amanda: You've been a foster for dogs at a couple local rescues. How has this experience affected your day-to-day life?
Ashley: Any person that volunteers to foster an animal will tell you that it's not easy. Adding an additional dog to your pack and day-to-day routine takes work. Fostering means an extra dog to feed, water, let out, groom and train. The moment you see that dog go to their forever family makes all the "work" worth every minute.
Amanda: How do your own dogs react to having fosters around?
Ashley: I have two dogs of my own. My family and I adopted Jake from 4 Luv of Dog Rescue in Fargo. Not long after that, I convinced my husband that Jake needed a friend and that fostering would be the perfect solution. We could temporarily have another dog around, but not have to worry about the added expense of a second dog. Plus, Jake was a young lab that needed a playmate to burn off some of his puppy energy. A few fosters came and went until Maci, a young Pit Bull/Boxer mix, came along. We picked her up at a local boarding facility where she was being temporarily housed until a foster home could be found for her. She lived with us for several months until the day came that she finally had a meeting with a potential adopter. I was sick to my stomach. Maci had the sweetest soul, but was a very timid dog. I didn't know how any other family would be able to make her feel comfortable and love her as much as we had for all these months. The adopters decided to go with another dog. I did a huge sigh of relief, looked at my husband and said, "We have to keep her." I signed the adoption papers a few days later and she's been our friend's and family's favorite ever since.
Jake is a fun-loving guy. I'm fairly confident that his goal in life is to meet everyone and everything he can. He loves when we bring new fosters into our home. He gets so excited to meet them. Maci is a little more skeptical and timid around new dogs, but as soon as she gets a good sniff in, she's spinning circles and can't wait to play with all of our new additions.
Amanda: What challenges have you faced, or overcome, while fostering? What about successes?
Ashley: We have faced many challenges in our four years of fostering dogs. We've seen everything from dogs with dog aggression, food aggression, toy possessiveness, separation anxiety and kennel anxiety to dogs that have come from puppy mills and abusive homes that spent weeks hiding in their kennels.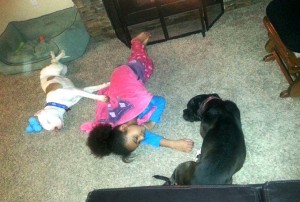 Thankfully, with hard work and dedication from the dogs and my family, all but one of the 23 dogs that have entered our home have been successfully adopted. Unfortunately, you can't save them all. As emotional as it is, there will be dogs that cannot be safely placed into homes, whether it is due to aggression issues or health problems. The success in these situations is knowing that you did everything you possibly could to give these dogs the love and care they so desperately need and deserve in their remaining days of life.
Amanda: If someone were thinking about fostering, what advice would you give them?
Ashley: According to the ASPCA, approximately 3.9 million dogs enter shelters each year, and 1.2 million of these dogs are euthanized. My advice to anyone thinking about fostering is to jump in with both feet and do it.
Amanda: What is the single best thing about fostering?
Ashley: For me, the single best thing about fostering is bringing a dog to their new home and knowing deep down in my heart and soul that that is the absolute, most perfect home for them.
Amanda: How can people celebrate National Dog Week? Give us some suggestions!
Ashley: I am a huge advocate for volunteering. I love the saying, "If you can't adopt, foster. If you can't foster, donate. If you can't donate, volunteer. If you can't volunteer, educate." In the world of animal rescue, there is always something that can be done. What better way to celebrate National Dog Week than to make a positive impact on the life of a dog?
We here at dogIDs are also helping you celebrate this fun holiday week with a special offer: free shipping! Happy National Dog Week! Ruff ruff!