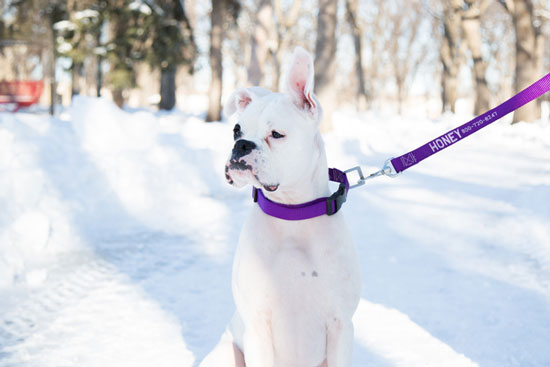 Custom Embroidered Nylon Dog Leash
Many dog owners consider nylon leashes to be the best dog leads due to their durability, while others prefer the appearance and strength of leather. The right choice for your dog depends on his or her behavior, where you live, and your pup's walking habits. To help you research the right pick, dogIDs has compiled a handy list detailing the pros and cons of nylon and leather leads.
Nylon Leashes: Pros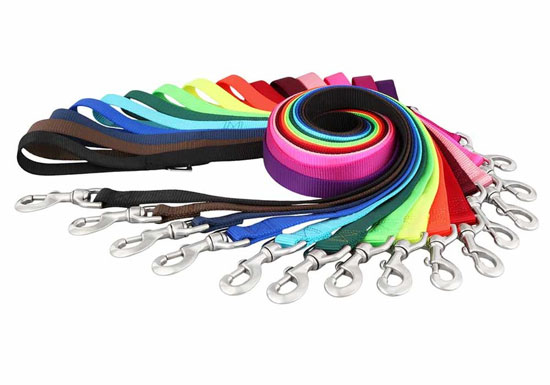 Nylon dog leashes are common in households with four-legged friends. Pet owners tend to turn to nylon because the material is both soft and strong. They're the best dog leads for puppy parents who walk their pooches in a variety of weather because waterproofed nylon can easily stand up in the rain and snow. Care is simple for this low-maintenance material. Just dry the lead thoroughly between uses. Flexibility is another bonus with nylon leads. Your dog will have more ease of movement. Since nylon is also lightweight, you won't have a problem controlling your pup. If nothing else, stow a nylon lead in the car so that you always have a leash portable and handy.
Nylon Leashes: Cons
In spite of the many benefits of outfitting your dog with a nylon lead, there are a few disadvantages. Most notably, though pliable and soft under normal circumstances, nylon can sometimes cause agitation or chafing. That most often happens when your dog has grown out of his or her lead or if he or she is a puller. For that reason, nylon may not be the best choice for large, strong dogs. Material strength can also pose an issue for some owners, as persistent puppies don't have any trouble chewing through nylon.
Leather Leashes: Pros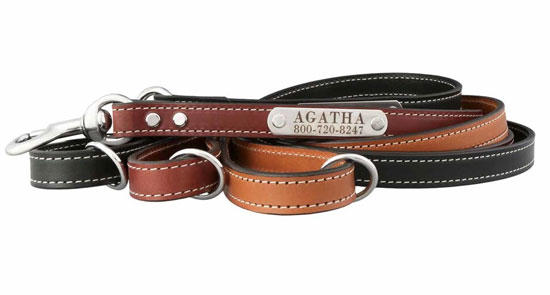 Personalized Bridle Leather Dog Leash
Rather than nylon, you might find that leather dog leashes make the best dog leads for your furry friend. Not only is leather an attractive pick, but it's also entirely natural. It's unlikely to break or sustain functional damage if your dog chews on it. Since leather becomes softer with use, your dog will find a leather lead comfortable, too.
Leather Leashes: Cons
As it is a natural product, leather does require more maintenance than synthetic materials. You may need to treat your leather leash with a conditioning product to ensure longevity. Opt for a natural leather conditioner that will be kind on your hands and on your pup! Although it is durable, leather does not do well when it's wet. As it dries, it can lose shape and structure. If you enjoy the strength of leather but expect to be out often in inclement weather, perhaps shop waterproof dog leashes instead. Price point can be an additional factor when considering leather leashes. Where nylon leads are generally inexpensive, a leather leash can be more costly upfront. However, the length of its shelf life typically ensures that it pays for itself, as your dog probably won't need a new leash for years—or longer.
Do your research to discover the best leash for your pup. All dog owners have an opinion on the best dog leads. Pay attention to what your pup likes and how he or she behaves on the leash. Do you have a preference? Let us know your opinions on nylon versus leather leads. Whatever you and your pooch decide, explore both nylon and leather leashes at dogIDs!