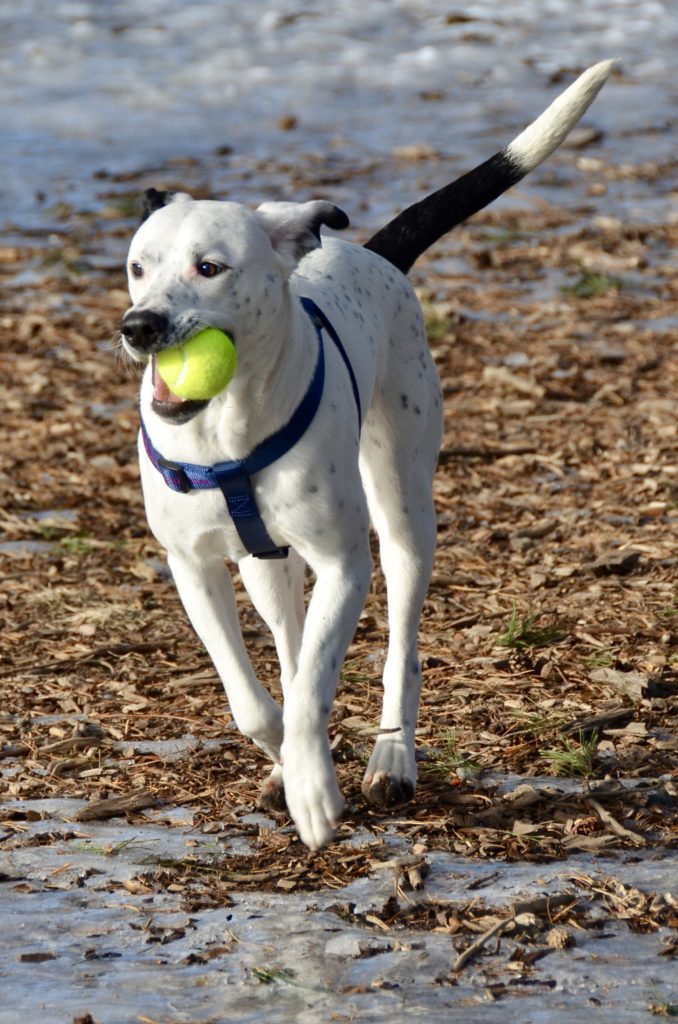 As we sat on the couch one November day, I thought to ask my boyfriend, James, "What do you want for Christmas?" Without hesitation, he says, "A dog." I laughed and shrugged the thought away thinking he was joking. To my surprise he wasn't. At first, I wasn't sure. I adore dogs and had grown up with them all my life, but were we ready for that kind of responsibility? Of course, it didn't take much convincing on James' part before I hopped online to see which pups were looking for their fur-ever homes at the local shelters near me.
Within five minutes of searching on Petfinder, we found her: Molly, a 1-year-old Dalmatian mix with a sweet temperament and floppy ears that reminded me of Dobby the Elf from the Harry Potter series. It was love at first sight. And so, we ventured to the shelter in order to meet her. I insisted that we meet several dogs that fit our criteria, just to be sure, but deep down we both knew Molly was the one.
One week later, Molly came home. Since her arrival, we've learned a lot as new pet parents, including the locations of all the nearest dog parks, and how to train out certain behaviors. I've also learned that there are several items that should be on every first-time pet parent's shopping list. James and I didn't have much of a plan for our new addition. We had the essentials: food, bowls, bed, nail clippers, etc. But it wasn't until Molly moved in that we discovered what we really needed:
Recommended Products for First Time Pet Parents
A Kennel
Whether you have a puppy or your dog is a rescue, there WILL be accidents. A kennel is a great way to ensure there are no accidents during those first few days (or weeks) while you're away at work. Molly's kennel also became her safe space and her bed. We'd tuck her in every night and now she goes in on her own for naps. We got ours off Amazon, and we love it! Its wire construction makes it sturdy enough to withstand any escape attempts and it's collapsible for easy transport from place to place. Another great kennel to get is a more permanent fixture for the home. We love this Wooden Play Pen that fits right in with our living room furniture.
A Harness
We got lucky with Molly because she came with very few bad behaviors, except when she walks on a leash. She'd jump, play tug-of-war with her leash, try to back out of her collar and was a plain pain in the rear! We thought maybe it was due to discomfort from the pressure on her collar, so we switched to a harness and boy, what a difference it made! Now, she ignores the leash, walks like a pro, and only occasionally tries to pull an arm off. Plus, we got her harness custom-made from dogIDs so now she looks stylish and walks like a proper doggo.
Dog Treats and Chews
Molly is what I like to call a "destroyer." Not many toys live long after being introduced to her powerful jaws. Within a week of having her home, she chewed through her stuffed animals, hard-rubber bone and shredded her tennis balls. We were at a loss, so we visited our local pet store and got help from the experts. They recommended Nylabones, heavy duty toys, and elk antlers. Well, Molly chose the antler for herself but it worked out great! It's tough enough to last for months (yes, months) and it's great for her teeth according to our Veterinarian.
Dog Bowls Placemat
I don't know about your dogs, but ours is a VERY messy eater. I'm not sure why, but kibble and water just can't seem to stick in this girl's bowls. Therefore, we were forced to get her a placemat. There are tons of different styles and shapes, personalized options, some that match your home decor and others more simple like ours. We went with a navy-colored, flexible rubber dog placemat to put underneath her bowl. It prevents them from sliding and catches all crumbs and water spilled during mealtime.
A Vehicle Restraint or Pet Barrier
Despite her size, Molly believes she is the smallest of lapdogs, and while this is fine and dandy on the couch at home, it is less than ideal while riding in the car. She will stop at nothing to crawl into the front seat, making any car ride, no matter how short, a two-person endeavor. That's why we got her a Zipline Vehicle Pet Restraint. It easily attaches to her harness and clips onto the handles on either side of the vehicle. This way, she can't reach us in the front, making it a safer trip for all involved.
With that, our first-time pet parent survival kit was complete. I for one, think most of these items are a must-have for all dogs and their humans, but of course, every dog is different! If there's one piece of advice I have for pet parents, it's to purchase dog products based on your pup's personality, lifestyle and everyday behavior. And never be afraid to ask for advice. Other dog owners are the best resource for questions and recommendations.
So good luck new dog moms and dads! May your journey into pet parenthood be full of love, licks and lots of laughter.