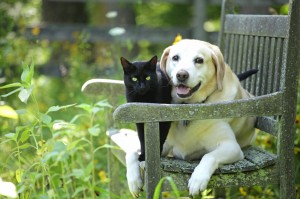 You may have heard of people in the news who left millions of dollars to their pets after they passed on. While most of us can't afford quite that much, there are still ways each of us can make sure that our beloved animal companions are cared for if we're not able to do it anymore.


Whatever your situation, you don't have to be elderly or ill to set up a trust for your pet, and it's probably easier and cheaper than you might think. To find out more about how trusts work, we talked to some experts and got a crash course.
What is a Trust and How Does It Work?
Christine Forakis, Esq, is an estate planning attorney at Forakis Law Firm in Arizona, and is a proponent of pet trusts. She explained that though most people consider their pets a part of the family, U.S. Courts, in the past, have considered them personal property, so having a will or trust can be very important for your pet, so that both physical and financial arrangements for the pet can be made without difficulty.
In short, a pet trust is a legally sanctioned arrangement providing for the care and maintenance of your companion animal(s) in the event of your disability or death. Beyond that, it also provides you peace of mind.
Debra Vey Voda-Hamilton of Hamilton Law & Mediation, holds workshops to educate pet owners on pet trusts. She believes all pet owners should set up continuity of care for their pets in a written document, especially if they have a long-lived pet like a horse or parrot.
Starting Your Trust
To get started, you have to do few things—name a guardian and secure funds. For the former, consider someone you know and trust who is willing and able to care for your pet. Forakis suggests that you familiarize the future caregiver with basic training and have them take your pet occasionally so they will have a more realistic understanding of what it means to share their home with it.
If no family or friend is able to take care of your pet, consider using an adoption organization to locate a future caregiver. Forakis also suggests naming one or two alternates, including a no-kill shelter as your last choice.
For the financial portion of the trust, Forakis says you must consider many factors, including the type of pet, its life expectancy, the standard of living you wish to provide, the possibility of expensive medical treatment, and whether or not the trustee will be compensated for his or her service.
To fund the trust, "you may name the trustee of the trust, in trust, as the beneficiary of a life insurance policy," Forakis says. "This possibility can be particularly helpful if you do not have sufficient property to transfer for your pet's care. Life insurance 'creates' property when you die, which you may then use to fund your pet trust."
Voda-Hamilton suggests funding trusts with an amount equal to a year's care, but if you use a pet protection agreement instead, you do not have to fund it.
If you don't want to use life insurance, there are plenty of other ways to plan for a trust. "You may have funds in the bank, an annuity, a retirement plan, or other contractual arrangement which permits you to name a person to receive property after you die," Forakis says.
A pet protection agreement can also designate care for your pet's needs and set up the chosen caregivers. The important part of either is providing instructions regarding care, feeding, exercise, veterinary care and burial.
Lastly, Forakis recommends contacting a financial advisor to make sure your plans are in line with overall financial goals, as well as a lawyer or banker about the correct way of naming the trustee of your pet trust as the recipient of the funds.
Making It Legal
The next step in making your pet trust is putting it all together in a legal document. "This could be as simple as leaving your pet and the necessary caretaking funds to the guardian in your will," Forakis says. "However, your last will and testament will not address what would happen if you were to become incapacitated or disabled." To be safe, consult with an attorney who specializes in estate planning, and if possible, who also has experience with pet trusts.
There are some states that do not recognize pet trusts, and you'll want to make sure you understand the laws of your state. There are many online resources you can use to look this up, or ask your lawyer or legal advisor.
The Takeaway
If you are interested in setting up any kind of arrangement for your pet if you are no longer able to care for them, an easy way to start is by taking a workshop so you can go even deeper into the options and procedure than what we were able to cover here. Voda-Hamilton also recommends a few helpful books – "Petriarch" by Rachel Hirschfeld or" Fat Cat Lucky Dog" by Barry Seltzer and Gary Beyer. If you're ready to put your plan into writing, contact your attorney or legal advisor.
Remember, you don't have to be old to set up care for your pet, and it's always worth the peace of mind knowing that your furry friend will be well cared for whether you are there or not.