Are you planning a doggie get-together? Whether it's a birthday party or a play date, some planning can be done to make sure your dogs have a great time.
Puppy Party Planning
Location, Location, Location
The first step in planning your puppy party is picking a perfect location. If all the dogs attending are potty trained, an indoor space will work great. If you are unsure if everyone is house trained or you just need extra space, choose an outdoor area. If you plan to have it in a public location, such as a park, check to make sure it is dog-friendly and there is nothing else going on there that day.
Puppy Proofing
Make sure the place you choose is safe for your dog as well as your dog's friends. If it's indoors, remove any valuable items you don't want accidentally knocked over or chewed on. Remove all garbage bins and make sure no harmful substances are accessible, such as medications or poisonous plants. If you have a fenced in backyard, block off any off-limits zones, such as flower beds or pools. Make sure that all of the dogs attending already know each other or are extremely friendly so that you avoid any fights breaking out. If you're planning a first-time play date, slowly introduce the dogs to each other while on their leashes. Let them get a feel for each other before letting them play.

Invitations
If you're inviting multiple dogs to the party, sending out invitations is a great way to get everyone excited! A super cute invitation idea is to get dog bones for all of your dog's friends paired with a little card that says the date, time and location. An evite is also a great route to go!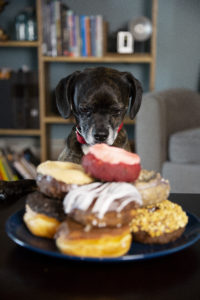 Food and Drink
Puppy play time is tiring work! Make sure there are plenty of bowls of water setting out around the area the dogs will be hanging out in and encourage hydration breaks. Have treats on hand for getting attention and rewarding during party games. If it's your dog's birthday or you want to add the perfect touch to a fun filled day, make the pups a dog-friendly cake! You can find a delicious doggie cake recipe here.
Party Activities
When all the dogs arrive, they are going to be so excited to see each other. Make sure to leave some time at the beginning of the party for all of the dogs to greet each other and get out some energy. Next comes play time! You can ask the puppy parents to each bring a toy and start playing with the dogs. Throw frisbees and balls, play tug-of-war and practice some tricks. Another fun idea is to set up an agility course or have a mini dog show.
Doggie Bags
When it's time for your dog's friends to head home, send them off with a goodie bag. These can include bones, chew toys, treats and a piece of cake if you made one. Don't forget to include a dog themed gift for the dog lovers.
Most importantly, don't stress about the details. You don't have to plan out every minute of the day and the simpler the play date is the more relaxed and comfortable the dogs will be. With a little bit of planning, the dogs and owners are sure to have a great time!