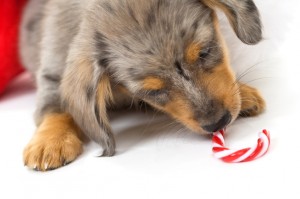 Adopting a new dog or puppy is an important decision that should involve the entire family. That's true no matter what time of year it is. Keeping that in mind, the following are some tips to consider if you're planning to give a family member a dog or puppy this Christmas.
Choosing a dog as a family gift together
I can't think of a better surprise than a cute puppy with a red bow around his neck as he sits under the tree. In all reality though, that puppy would probably be peeing under the tree and chewing on someone's expensive new shoes. I imagine a lot of chaos!
That's why for the most part it's a wiser decision to plan ahead for the dog as a family and then take part in choosing the dog together. If you time it right, you could even head out as a family to get the new dog on Christmas Eve after you've already purchased your dog supplies and prepared your home for the puppy. Some shelters will be closed on Christmas Eve, but some will be open in an attempt to get more dogs adopted.
Surprising the kids with a puppy
As long as it's not a spur-of-the moment decision, I don't see a problem with mom and dad surprising the kids with a puppy Christmas morning. It will probably be the best Christmas those kids have ever had.
Of course, it's not reasonable or fair to expect the kids to take care of the new puppy on their own. They may be assigned certain responsibilities, but ultimately the parents will be the ones training the puppy, cleaning up after the puppy and letting her out at 4 a.m. As long as the parents understand what they're getting themselves into, surprising the kids with a puppy could work out just fine.
Surprise your significant other by agreeing to get a dog
If you really want to give a family member a dog as a gift, the best thing you can do is surprise the person with something that represents a potential new dog.
For example, if your husband has been talking about getting a dog for the last six months, you could surprise him by printing out a picture of a dog he's been eyeing on Petfinder and put the picture in a card. The message could say something like, "I hope you pick me!" That way, the two of you can schedule a time to meet the dog together and potentially arrange the adoption once you're both prepared for a new dog. Be careful about the message you write in the card, though. There's a chance the dog could already be adopted (or euthanized), and you don't want your husband to be let down if the dog is no longer available.
Surprise the family member with dog supplies
How about wrapping up a personalized dog collar for your family member? Other practical things the new dog owner will need could include gift cards to obedience classes, dog toys or help paying the adoption fee or initial veterinary exams.
How about you? Have you ever given or received a dog as a gift? What advice do you have for the rest of us?