Our spokesdog, River, is a very active yellow labrador who loves to swim and fetch. River, just like all dogs, always has his favorite toys and treats, so we are making a list of River's favorite things. He would have liked to type this list himself, but his paws are just too big for the keyboard!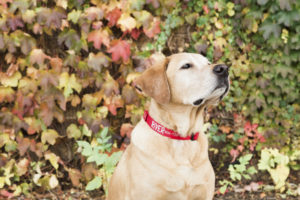 River's Favorite Products
One of River's favorite things is our Waterproof ScruffTag Personalized Dog Collar. This collar is very durable! His family doesn't have to worry about this collar becoming all smelly after his antics in and out of the water.
Like his collar, the Soft Grip Snap Leash is waterproof and odor proof. Even though it is a very durable leash, it also is very comfortable in the owner's hand! It also won't crack in subzero temperatures (which can happen quite a few times here in North Dakota!).
Pet ID Tags by Andrew is another favorite of River's. There are so many colorful options and it helps that they are indestructible! Plus, they aren't just for dogs–River's feline friends can also get a hand painted personalized ID tag.
River's absolute favorite ball to play with is a tennis ball! He is always carrying one around the office and wanting us to throw it for him. Tennis ball size balls without the traditional cloth fabric on the outside are best so they don't get so slimy and gross looking...well, that's for us humans that have to throw them.
A lot of dogs like rawhides and River is no different. He really enjoys chewing on organic rawhides or bully sticks. We feel good about him chewing on those because they aren't made with any chemicals or hormones!
After a long day, River likes to lie down in his dog bed. His bed is both water and stain resistant. We can tell he starts to relax as soon as he lies down!
This wraps up the list of some of River's favorite products. We know your four-legged friend would love them too!
What is your favorite dogIDs product?