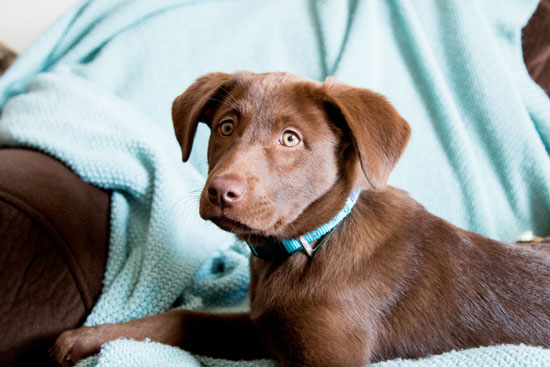 Over the years you get to spend together, you'll buy your dog all kinds of gifts and treats, but before the chew toys, outfits, and treats come the new puppy essentials that every little pooch needs. Whether you're a seasoned dog owner or you're welcoming a pup into your home for the first time, you need to prepare for his or her arrival. Discover what you need for a new puppy, including a collar and lead from dogIDs.
The Perfect Collar
Personalized Italian Leather Dog Collars ($49)
One of the first new puppy essentials that you need is a collar for your pooch. Keep in mind that you might need to buy a collar at different stages of your dog's growth, although you can also find items that can grow with your dogs. Most pet owners agree that the best dog collars are leather or nylon. Nylon is a classic choice for puppies due to its durability, flexibility, and low-maintenance design. As an added bonus, nylon is an incredibly lightweight material and can easily be sized down for your little guy or gal. Leather is long-lasting, plus it's a timeless and handsome choice for your beautiful pooch. However, when choosing a leather collar for your new puppy, be sure to opt for a soft and pliable material such as Italian leather.
You should also weigh out the merits of a collar vs a harness. Smaller puppies may need to work their way up to a harness. However, for a strong dog or a pup that pulls, a harness provides more control and coverage.
ID Tags for Safety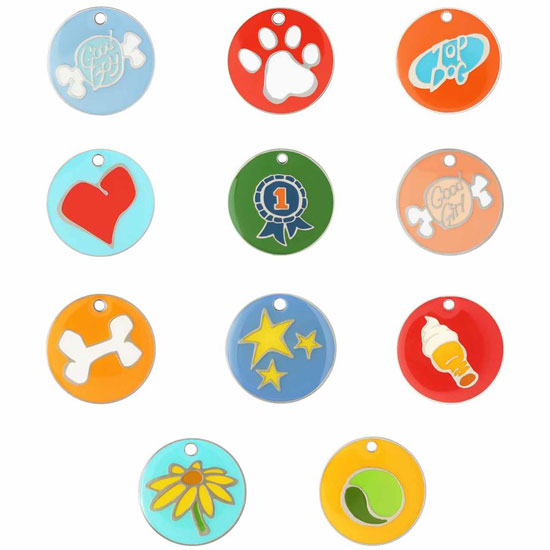 Enamel Designer Dog ID Tags ($15)
Think about safety as you consider what you need for a new puppy. Your pup needs dog tags with his or her name, your phone number, and the address to your home. You can find tags in a variety of designs, ranging from plain tags to cute pendants in the shape of flowers, hearts, stars, and many more. Consider a traditional hanging tag or a convenient slide-on tag so that you can easily move it when your puppy upgrades to a larger collar. Either way, make sure you choose a metal that will hold up against the weather conditions where you live!
The Right Leash
Custom Embroidered Nylon Dog Leash ($27)
It's wise to get your dog started on a routine as soon as possible, which is why a leash is another new puppy essential that you need when you bring him or her home. Shop for personalized leashes with your dog's name and your phone number as added protection. Puppies are notorious escape artists. If your pooch gets away from you while you're walking, the contact information can help your new friend get home safe. Plus, personalized leashes make identification a breeze when socializing with new puppy friends at the dog park or doggie daycare.
Nutritious Treats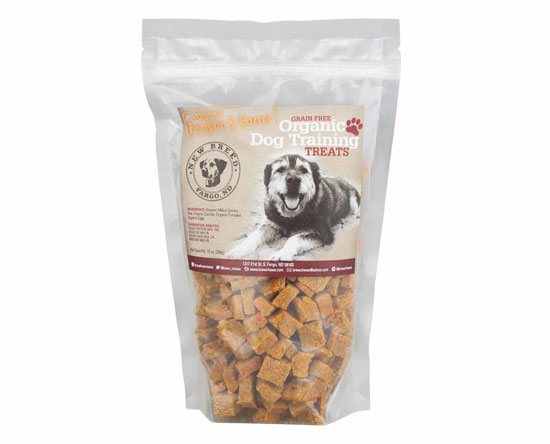 Brew Chewz Organic Pumpkin & Carrot Training Treats ($17)
You know that you need healthy food for your dog, but treats are new puppy essentials, too. They're helpful for training your new dog to follow basic commands. Each time your pooch obeys a command, such as sit or stay, try rewarding him or her with a treat. This fun activity reinforces the positive behavior!
As you shop for what you need for a new puppy, don't forget to include comfort items, such as cozy blankets and soft toys. Having everything you need at the ready will help you to welcome your furry friend into the family. Stock up on new puppy essentials at dogIDs.