Happy Campers: 11 Tips for Camping with Your Dog
Sunny lakeside beaches. Peaceful hiking trails. Crackling bonfires.

One of the best parts of summertime is exploring the great outdoors. And you know what's even better? Bringing along your best (four-legged) friend.

Whether you're backpacking on weekend afternoons or staying a few nights at a local park, camping with your dog can be a really fun adventure, especially if you're prepared. But if you're not quite sure where to start, here are a few helpful hints to make sure that both you and your doggo are happy campers!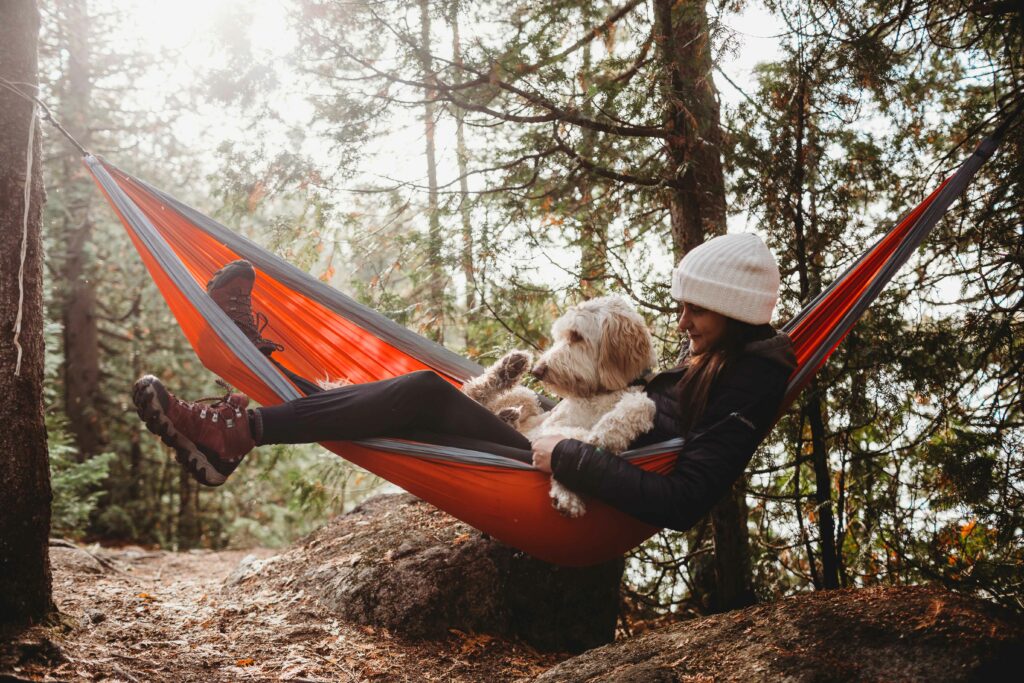 Camping Guide: How to "Ruff" It with Your Pack

#1: Research pet-friendly places.
While many parks and campsites will be happy to accommodate your pooch, some destinations prohibit dogs or restrict them from certain hiking trails. Others have limits on the number of dogs allowed on a single site.

Check with your campground in advance about their pet policies and rules. Be sure to ask about any leash restrictions, too. (Some require leashes six feet or less in length for easy control or don't allow retractable leashes. Psst: if you happen to need a new one, here are some of our favorite durable leashes, including several reflective options.)
#2: Get your good boy or girl current on vaccinations.
Most campgrounds and dog parks require your dog to be up-to-date on vaccinations upon entry. Be sure your furry friend is current with shots, or schedule a check-up with your vet to get your pup back on track.

It's a great idea to pack a copy of your vet records in case you need it, too.

#3: Use flea and tick prevention.
Even when you're exploring the remote wilderness, you may come across a few other visitors – including the unwelcome ones! Since ticks are especially common in wooded areas, ask your vet about which topical or chewable prevention is best for your dog.

#4: Pack for your (dog) pack.
Not quite sure what to bring? Here's a handy list of essentials to help keep your pup safe and happy while camping:
Dog bowls for food and water (collapsible bowls are perfect for travel!)
Dog food and treats
First aid kit
Poop bags (for obvious reasons)
Leashes and tie-outs
Outdoor-safe toys
Any prescription meds
Extra towels
Optional: small battery-operated fan for white noise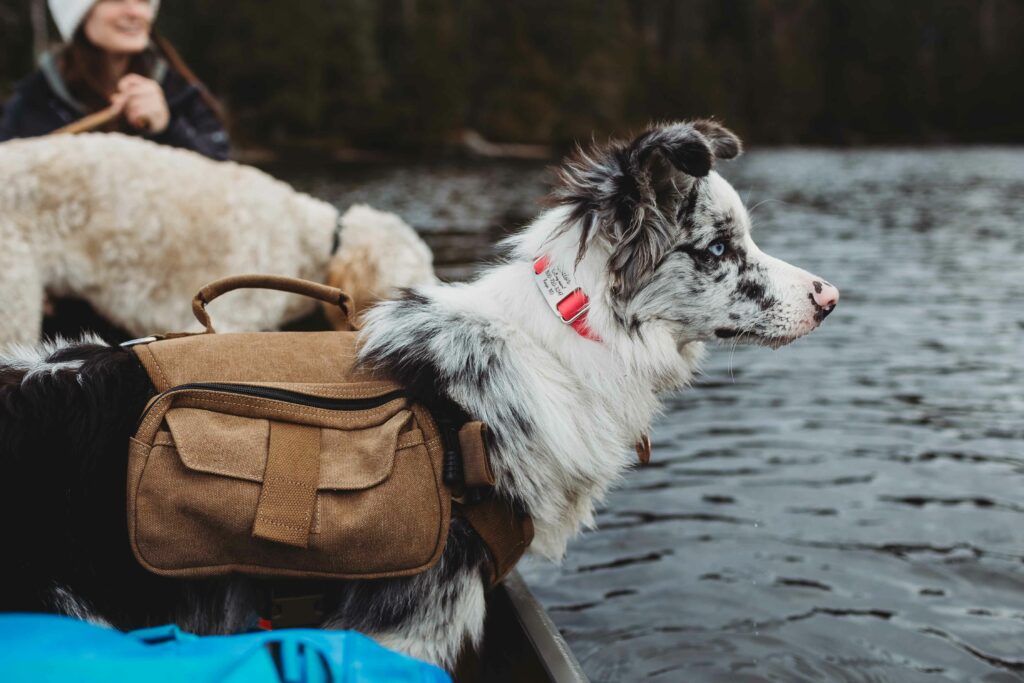 #5: Check your dog's ID.
Even when you're careful, it's not uncommon for dogs to become startled or lost in unfamiliar places, particularly when it comes to camping and road trip vacations. Make sure your dog's collar has an accurate and legible dog ID tag, including your current phone number.

#6: Adjust collars or harnesses.
While high-quality gear is important, it's just as important that it fits correctly and comfortably. Weight changes or even heavy seasonal shedding can require collar adjustments. (I own a husky mix, as well as a chow chow, so trust me on this one.)

As a good rule of thumb, you should be able to fit two fingers underneath your dog's collar. No more, no less!
We recommend a dog collar with personalized nameplate. Should the worst happen and your dog was to run off and get lost, the safety ring on the collar allows them to wriggle out of their collar if they got caught on anything. And the personalized nameplate of course, helps your dog find his way home!

#7: Take extra photos of your dog.
Quite the hardship, I know! But even if your camera roll is already filled with photos of Fido, take a few extra photos before your trip. Snap a couple headshots in natural light, as well as close-ups of any unusual markings, just in case your dog gets loose.
#8: Increase endurance – for both of you.
Hitting the trails? Make sure you AND your dog do a few trial runs. If your dog normally isn't very active, consider getting extra exercise together in the weeks prior to your camping trip, particularly on hilly terrain. Increase your activity gradually, and take plenty of breaks as needed, especially with dogs that need a "couch to 5K" kind of approach. Bonus points if you can spend a little time at a local dog park for extra socialization, too!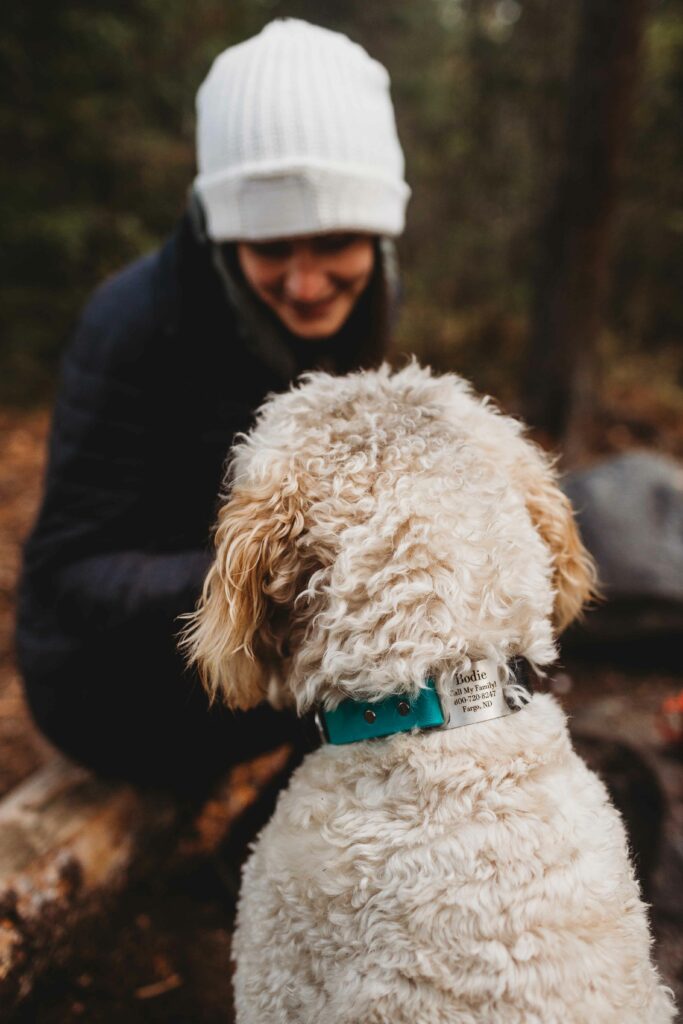 #9: Provide EXTRA hydration and food.
Your pup will require more water than usual outside, especially in unfamiliar settings. Ask your campground about water availability, so you can plan accordingly. Also, bring your dog's normal food and treats to avoid any changes to diet, and plan on extra quantities. Just like you, your dog will be burning more calories with all of that increased activity and fresh air.

#10: Consider waterproof gear.
Letting your dog swim at the lake? Or worried about rain and your pup splashing in all the poodles? (I know – that's pretty terrible, but dog puns are hard to resist.) Consider investing in waterproof collars and leashes. They won't stretch out or result in smelly odors when you're bunking together in the tent.

#11: Practice with those first-timers and nervous pups.
Not sure how your dog will react to camping for the first time? Or have a pupper who gets a bit anxious? Set up a tent in your backyard first. Keep your dog leashed and secure, just like you would during a real camping trip. Invite over a few friends or family members, and have a bonfire complete with hot dogs and s'mores. By starting out with a familiar setting, it's a great way to help your dog feel more confident and comfortable. And you will, too!

Here's to having fun and "ruffing" it together all summer long!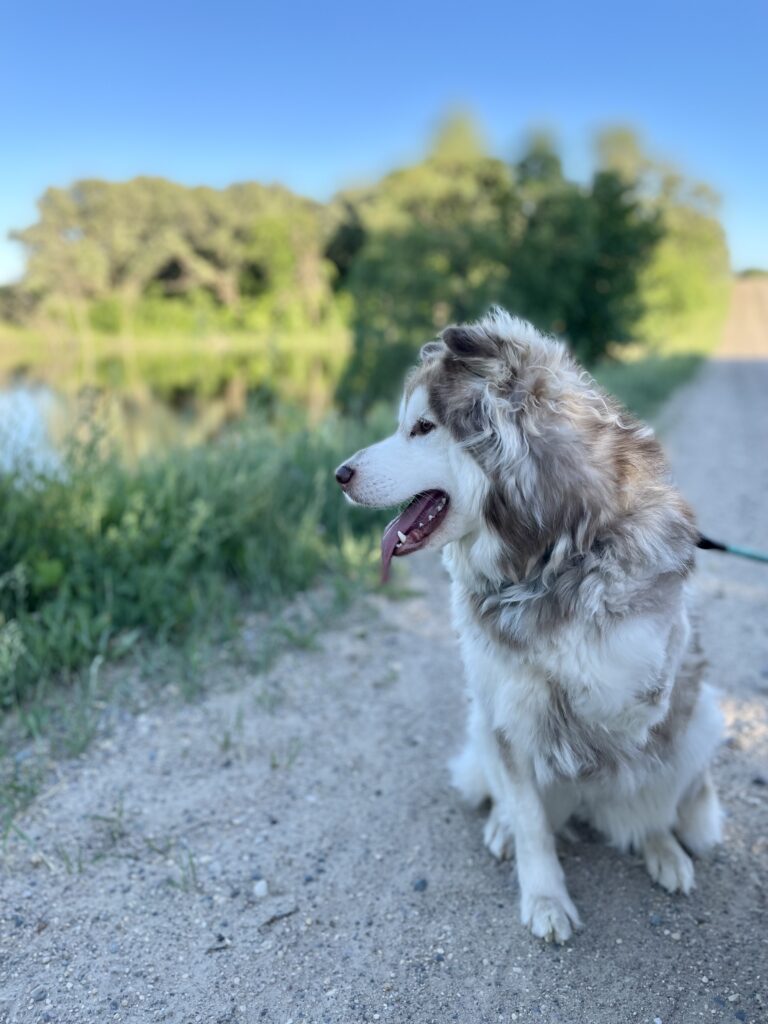 About the author:
Jen Thompson is a writer, editor and photographer
based in Fergus Falls, MN. She is the proud owner
of two dogs, including a chow chow named Penny
and a three-legged husky mix named Pepper; one
dwarf rabbit; and a cat named Buddy who showed
up as a stray on her front porch years ago and decided
to make himself at home.