My husband and I got married in 2012, and we had our Lab mix at the outdoor ceremony and reception.
As someone whose life revolves around dogs, this was important to me, and I'm thankful I will always have those memories and photos of my special dog Ace.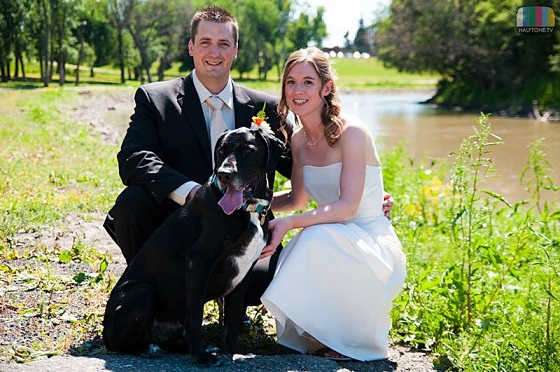 Of course, having your dog at your wedding causes a lot of additional stress, so I thought I'd share a few tips that might be helpful for other couples.
Tips for Including Your Dog In Your Wedding
1. Commit to your decision early.
Danielle Rothweiler is a wedding and event planner with Rothweiler Event Design and said many couples want to have their dogs as their ring bearers.
"As a planner, this is something I need to know first thing and not three days prior to the wedding," she said.
2. Consider your dog's comfort level.
Some dogs are great in new environments with crowds of people. Others … not so much.
If your dog is guaranteed to bark the whole time or if she could potentially bite someone, I recommend you re-think having her at the wedding.
Be fair to your dog, and perhaps it would work better to hire someone to bring her to a photoshoot before or after the wedding vs. having her stay for the whole event.
3. Plan in advance who will handle your dog.
You will need someone to help with your dog prior to the wedding, during the wedding and afterwards.
A couple of questions Rothweiler said to consider include:
How is the dog getting to the location?
Who will watch the dog while he or she is at the location and also make sure the dog isn't overheating if the event is outside?
Who will be responsible for the dog once the dog's "role" is completed?
"Just 'going with it' and assuming someone on the day of can watch the dog or bring it back to the hotel is not going to cut it," she said.
As an example, Jon Lagasse, founder of the dog park app PawParks.nyc, said he and his wife had their boxer Mel at their wedding (pictured below).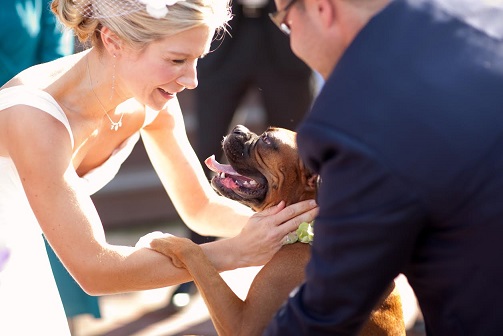 "My wife and I adopted her the day I proposed, which was part of my proposal plan, so it was only natural to make sure she was a part of our wedding day," Lagasse said.
To help, they asked Mel's previous "foster mom" to bring her to the wedding so they could take pictures. She also got to spend about an hour with them after the ceremony.
Sadly, Mel has now passed away.
4. Provide tons of exercise.
My dog is very laid back as far as physical energy, but he was still way more hyper than usual at our wedding. All the excitement and energy from us and our guests really affected him, which is understandable.
Because of this, I recommend doubling your dog's usual exercise in the two weeks leading up to your wedding. Try adding longer walks, running sessions or maybe taking him to dog daycare for a few days if he's used to that. If you have friends asking how they can help you with the wedding, ask them to exercise your dog for you!
5. Don't expect perfection.
Weddings are never going to go perfectly, and that's OK. Dogs are never going to act exactly as we'd like them to act, just as we can't expect our friends and family to be perfect either.
As an example, Julia Chan got married a year and a half ago and her pitbull mix Drogo (pictured below) was the ring bearer.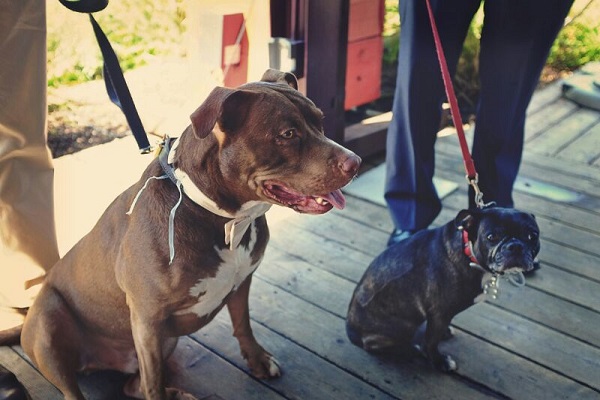 "He came running down the aisle when it was his time, with our rings tied to his bow tie," she said. "Then he wanted to play chase around our ceremony ... too cute."
She said he was running around with excitement, and it was a good thing the rings were triple knotted to his collar so they were secure!
"A shake of the head could have tossed the rings away," she said.
I thought this was a great example, because it just shows that dogs are dogs, and that's OK!
I know some brides (and grooms too) have extremely high expectations for their "big day," but in reality you can't control or predict everything. Just relax, and smile about it later.
Check out these products to help include your pup in your special day.
Embroidered Hashtag Nylon Wedding Collar
Have any of you had your dogs in your weddings? We'd love to see your pictures!
Check out our blog on How To Propose With Your Dog.