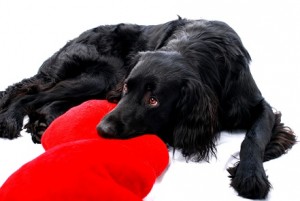 Are you planning anything special for your dog or cat this Valentine's Day? Maybe a special treat or toy?
Or maybe your dog is sending a Valentine to someone he loves?
The following are four simple ways to show your dog you love him this Valentine's Day, but more importantly I'd love to hear what you have planned for your pets!



4 ways to show your dog you love him
1. Take your dog on a hike.
Some dogs love adventures more than anything, right?
Sarah Ladwig is the owner of the dog running business Paws & Go in Marin County, Calif. She said her collie mix Obi will get to go on two hiking adventures with his dog friends on Valentine's Day.
Ladwig also said that she and her husband have plans to go out to dinner tonight instead of Friday.
"So we'll be home with him on Valentine's Day," she said.
Aww, what a lucky dog!
2. Make your dog a special treat.
Food is definitely the way to my pets' hearts. I probably won't be baking or cooking for them, but my dog Ace and my cats Beamer and Scout will be getting some extra goodies on Friday. And they're not the only ones.
Through Facebook, I asked dog lovers to share what they are doing for their dogs this Valentine's Day.
John Kong said he plans to give his dog a petite sirloin steak on Friday.
Wow, my pets would be jealous!
"I'm going to make homemade dog biscuits, and hopefully have enough to give to my friends with dogs," said Mauli Fry.
If you're interested in baking for your dog, check out this recipe for peanut butter and pumpkin dog treats.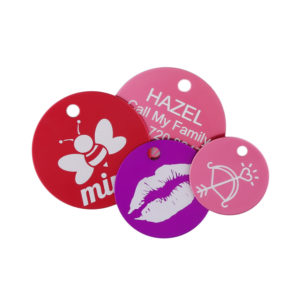 3. How about a gift for your dog?
David Bakke of the web site MoneyCrashers.com said he always gets his beagle Charlie a special gift on Valentine's Day.
"This year I picked out a few heart-shaped dog toys," he said. "He also loves rabbit jerky, so he gets some of that as a treat."
If you're looking for treats or toys for your dog, dogIDs has quite the selection.




As far as unique gifts with a Valentine's theme, you may be interested in a Valentine's Day pet ID tag. There are seven design phrases to choose from, including "Hug me," "Kiss me" and "Puppy love." The tags come in three colors, and most would be cute on a dog or cat's collar all year long. They would make a thoughtful gift for that dog lover who has everything.
4. Spend extra time with your dog.
Toys and treats are great, but what our dogs often want most is our time - whether it's an extra cuddle or a doggy massage or a long walk around the neighborhood.
Jo Jo Harder, the creator of America's Top Dog Model, said she plans to pack a picnic basket and spend Valentine's morning at the dog beach with her miniature greyhound named Romeo.
"I'm sure he will enjoy running on the sandy beach and dodging the high tides," she said. "And who knows, he may even meet Juliet!"
So what are the rest of you planning for Valentine's Day?