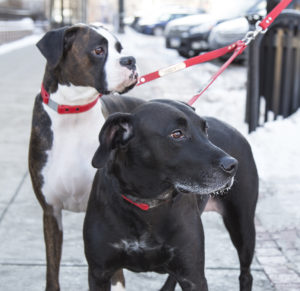 Which Leash Is Best For My Dog?
We have a variety of dog leashes to choose from at dogIDs, but how do you know what type of leash is best for your dog? It's a bit overwhelming! To help you decide, I'll go over some options. Then you can decide what kind of leash is best for your dog.
Types of dog leashes
1. Snap leashes
Snap leashes are basic leads that clip to your dog's collar or harness. If you have a dog that walks nicely on a leash, this is probably the type of leash you'll want to go with. It gives you some flexibility because you can always clip the leash to any type of training collar if necessary.
Most snap leashes range from 4 feet to 6 feet, and they are available in nylon or leather. Nylon snap leashes come in nearly every color, and they can also be personalized with embroidery. Some people find leather snap leashes sturdier and easier to grip than the nylon. These can also be personalized by using a nameplate.
For other options, consider a reflective snap leash, an odor-resistant leash or a designer leash.
2. Slip leashes
Slip leashes also come in leather or nylon. They are designed to give you a bit more control over your dog, regardless of the type of collar your dog is wearing. This leash does not clip to the dog's collar. Instead, it slips over the dog's head and is designed to sit high on the dog's neck. Slip leads are helpful for training a dog not to pull and are often used during dog shows.
3. Martingale leashes
Martingale leashes are an alternative to slip leads. They also tighten when a dog pulls, but a martingale will not tighten as much as a slip lead. Martingale leashes are perfect for everyday use or training.
4. Traffic leads
Traffic leads are very short snap leads designed to give the owner more control of a large dog in tight areas. Many dog owners use these types of leashes when working on agility training, and they can also be used for teaching a dog to heel.
Traffic leads are available in nylon or leather.
5. Check chords
Check chords are long snap leads intended for training purposes. Check chords allow for distance between the dog and owner while the dog remains on a leash. Check chords are perfect for working on obedience training, field training or for transitioning to any type of off-leash training. They are not intended for regular dog walks.
Check chords are available in a 30- or 50-foot length.
What is your favorite type of dog leash?