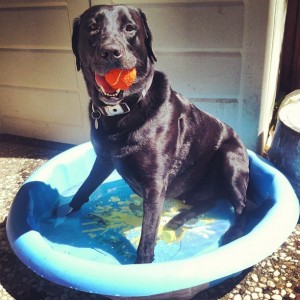 If you live with dogs, I know you definitely have a few embarrassing stories to tell. And, you can probably relate to the stories I'm about to share!
I hope you can get a few laughs out of these, and of course, feel free to share your own embarrassing dog stories in the comments. At least we can all laugh about them after the fact!
Embarrassing Dog Stories
Artie the Labrador
Farrah Kemp is the owner of a dog named Artie (pictured).
"He's a 100-pound black lab oaf with a habit of causing mischief wherever he goes," Kemp said.
She and Artie are from Santa Cruz, Calif., and part of their daily routine is to run or walk on the beach.
"All is well when I have the tennis ball, but occasionally, we don't have one and that's when the trouble starts," Kemp said.
Her most embarrassing moments with Artie both happened on the same day during a run.
"A man stood fishing on the sand and Artie ran up, sniffed, and lifted his leg on this man's chair and his ice chest full of fish!" Kemp said. "The man didn't notice so I went on my way, blushing and running as fast as I could."
The second group of people they encountered were also not prepared for Artie.
He ended up lifting his leg on their stack of beach towels, Kemp said. These were underneath the head of a man taking a nap, and then Artie went straight for a woman's beach bag.
As the "horror and humiliation" struck her, the only thing Kemp said she managed to say was, "Yeah … there's not a lot to say."
She said she then ran off and "luckily wasn't chased down."
"Oh Artie," she said. "Such a terror."
Muppet the spaniel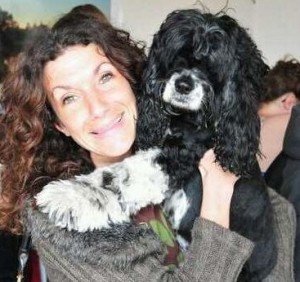 For Heddi Cundle, one of her most embarrassing stories happened when her spaniel named Muppet was "taking a dirty" on the sidewalk.
"I saw a one-inch piece of white fabric hanging out her bottom," Cundle said.
She then did what many of us might have done – she wrapped the poop bag around her hand and pulled the fabric out.
"As I pulled the end out, there was a huge popping sound and Muppet wriggled," Cundle said. "Out came a full-length, fully intact Swiffer duster!"
People on the street were of course staring.
"It took internal cleaning to a whole new meaning," Cundle said. "I was feeling nauseated, yet Muppet felt fantastic."
CLU the border collie
Megan Hall said her border collie CLU (which stands for Codified Likeness Unit from the movie "Tron") loves to go on car rides.
A few months ago, Hall's parents came to visit after her mom had purchased a brand new car – "The first brand new car she's ever owned, versus used cars."
Since Hall owns a Jeep, she said CLU is used to running to the back and jumping in.
"When my parents arrived, he ran out of the house and jumped onto the trunk of my mom's brand new car, slid around and fell off," Hall said. "It was hilarious, but also embarrassing because he scratched up my mom's brand new car!"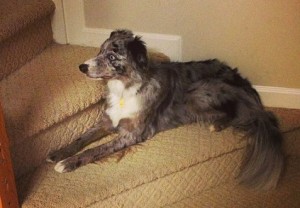 Dash the Westie
"My Westie, Dash, lifted his leg and peed on a pile of ladies' purses at my husband's 50th birthday party," said Amy Weirick.
The party was held in the backyard, and in Dash's defense, the purses were thrown in a pile under a tree.
"His favorite tree, apparently."
Another time, Weirick was walking Dash past the elementary school during her 10-year-old son's lacrosse practice. The kids came over to the shade of a tree, where their thermos-type water jugs had been placed.
"Just as the coach and his son approached, Dash lifted his leg and let loose all over the top of the coach's kid's water bottle," Weirick said.
She took the bottle home, scrubbed it, bleached it and returned it to the boy.
"Bottom line: In our dog's eyes, anything left under a tree is fair game for leaving his mark."
How about you? Do you have any embarrassing stories to share?