Is your furry friend your Valentine this year? Here are 4 ways you can treat your favorite dog this Valentine's Day.
Showing Affection
There are many ways you can show your favorite pup love without getting them a gift. For Valentine's Day spend a little extra time playing with your dog. Throwing a couple more rounds of frisbee or ball will make your four legged friend feel appreciated. Don't forget to get outside and take your puppy for a walk. Going to the park or for a long walk will make your dog's day even better.
Along with being active, you can show your pup love by your attention. Giving your dog extra scratches and belly rubs will make them have the best Valentine's Day yet. Along with pets, brushing your dog with a soft brush is a great way to show you care.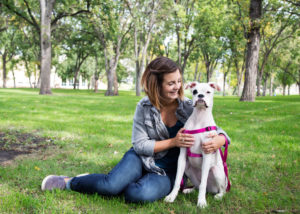 Don't forget to praise your furry friend a little extra this Valentine's Day. Focusing on their positive actions creates a loving atmosphere for your dog.
Tail Wagging Treats
You may not be able to give your pup a box of chocolates, but why not send a box of treats their way? Brew Chewz All Natural Dog Bone Treats will have your dog drooling this Valentine's Day. These treats come in three different flavors. Choose from Pumpkin & Carrot, Peanut Butter Blueberry, & Peanut Butter. With all their natural ingredients your pup is sure to fall in love with these treats!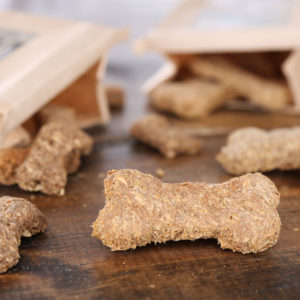 The Collar of Puppy Love
Want your furry friend to be feeling the love this Valentine's Day? Order them a dogIDs Valentine's Day collar. With three color options, your pup will be set for any date this Valentine's Day. These cute designs are not only perfect for Valentine's Day, they can show off your dog's personality all year long!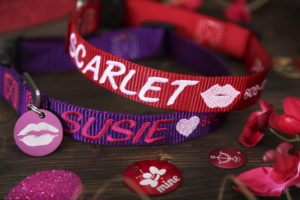 Lovable Dog ID Tags
Show off your love for your dog with an adorable dog tag! Pick a heart shaped tag or just something cute that will keep your pet safe and make them look stylish! Your pup will feel the love with these fun tags, plus your heart will rest easy knowing they can make it home safe if they get lost.
Whether you're getting your puppy a gift or spending extra time with them, we are certain that they will be feeling the love this Valentine's Day.
How are you and your furry spending your Valentine's Day?
Want more tips on showing your furry friend love? Check out these blogs.
Sharing The Puppy Love This Valentine's Day