I have an active, young Weimaraner whose parents and grandparents are working, competitive hunting dogs.
While my guy is very much a beginner when it comes to field training (and so am I), I've learned about some of the important safety tips for training a hunting dog. Please list your own tips or tricks in the comments below. We'd also love to see a picture of your hunting dog!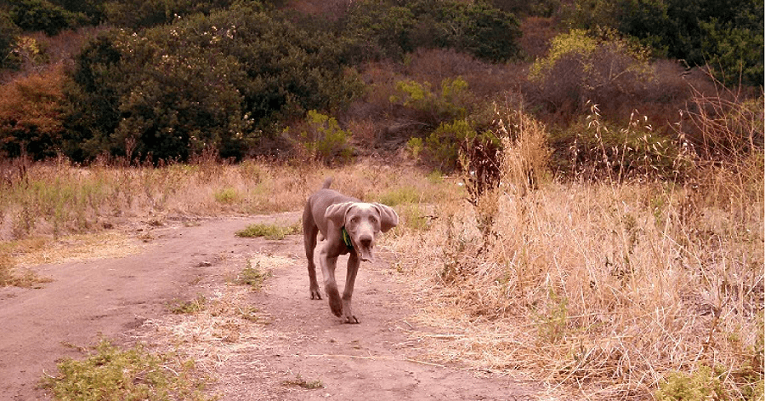 5 Safety Tips for Hunting Dogs
1. Train with a mentor or club.
If you're brand new to fieldwork, it's so helpful to team up with a trainer, mentor or club in your area.
Your dog's breeder might be able to put you in touch with a trainer or help you get registered with a local training club. I signed my dog up with a local chapter of the North American Versatile Hunting Dog Association (NAVHDA), which is a nonprofit with a reasonable yearly membership fee. The group has monthly training days in the field for dogs of all abilities.
2. The right gear – you and your dog should be seen!
You'll probably want to wear some blaze orange yourself if hunting upland or big game, at the very least a hat or shirt. Look into a bright collar for your dog too so he's always visible and not mistaken for a deer or other animal.
ScruffTag collars in stealth colors for hunting dogs
dogIDs' Waterproof ScruffTag collars are practical collars perfect for hunting. They're waterproof, smell-proof, and come with an engraved, built-in nameplate that sits directly on the "scruff" of your dog's neck. They're available in many colors, some of them are perfect tones for in the field or in the blind.
dogIDs created the ScruffTag design so that your dog's identification could be easily visible but jingle-free. This hunting collar won't make any noise when you're hunkered down with your dog and it's totally waterproof. The hardware is still made of 100% corrosion-proof stainless steel.
3. ID your dog!
You'll likely be doing off-leash work with your hunting dog eventually. We all know how important ID tags are but it's still worth repeating. Getting separated from your dog while out hunting happens sometimes, so make sure he has ID wherever he is at all times.
If you prefer to avoid the "jingling tags" during hunting, that's another reason to look into these stealth collars from dogIDs as you can engrave up to 4 lines of information right onto the nameplate. No more jingling!
If you hunt in areas far from where you live you might even choose to put different information on your dog's hunting collar vs. his regular collar. Perhaps a different emergency contact, the address of where you typically stay, etc.
I also use a 30-foot check chord for training my young dog because he can't always be trusted off leash and unfortunately some areas have enforced leash laws even for hunting dogs.
4. Familiarize yourself with the wildlife.
Depending on where you'll be hunting or training, there may be snakes to worry about certain times of year and of course fleas, ticks and mosquitoes.
It goes without saying, but we should all be aware of which large mammals are in the area too whether it's bears, mountain lions, elk, moose, coyotes, bobcats, etc.
And don't forget plants. Is there a potential for poison ivy? Poison oak? Unfortunately, in my area (southern California) we have a lot of foxtails to deal with which are a huge pain for dogs!
5. Common sense people don't always follow.
We all know the basic safety tips, but we don't always follow them, do we?
Bring plenty of water for yourself and your dog, especially if it's going to be extra hot or sunny. I like using a collapsible dog bowl.
Tell someone where you'll be, especially if you and your dog are hunting by yourselves.
Be prepared for a sudden change in weather depending on where you live and the season (freezing temps, wind, rain, snow, ice, etc.)
What other tips would you add to this list?
Do you have any gear you'd recommend?