Not all dog ID tags are created equal. Depending on what metal you select for your pet's new tag, it may need a bit more care to keep it looking brand new. Brass dog tags are a great option for your pup and are a customer favorite, but they do require additional care to keep them shiny and readable.
How Is Brass Different?
Brass is a metal that is softer than stainless steel. The beautiful gold coloring is known to tarnish, or appear dirty, due to a chemical reaction caused by air or moisture. This may also cause your tag engraving to look like it is shallow or wearing off.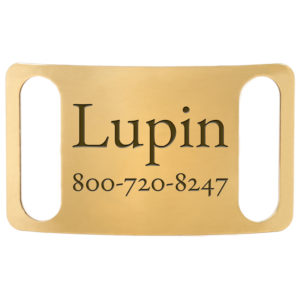 How Do I Fix It?
Although your brass dog tag may look worn out, there is an easy fix. Brass is a metal that can be cleaned with metal polish or a DIY cleaner. Simply use a soft cloth to wipe the tag, add polish and buff until you have your pet's tag looking like new. If you'd rather not buy a cleaner just for your brass dog ID tags, a Do-It-Yourself cleaner is a great option!
Ingredients:
Baking soda
Salt
Lemon juice
Water
Soft cloth or sponge
Directions:
Mix equal parts baking soda, salt, and lemon juice in a small bowl to create a paste.
Add enough water to the mixture to make it into a thick paste.
Apply the paste to the tarnished brass with a soft cloth or sponge, rubbing gently in circular motions.
Let the paste sit on the brass for 5–10 minutes.
Rinse the brass thoroughly with water and dry it completely with a soft cloth.
If desired, apply a brass polish or wax to protect the brass and prevent future tarnishing.
Note: Be sure to test the paste on a small, inconspicuous area of the brass first to ensure it does not damage or discolor the metal.
Another article about DIY brass cleaning that you may find helpful is right here.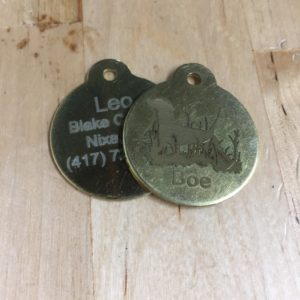 What do you use to keep your brass tag looking new? Want more information about dogIDs products?
Check out this blog. What Does Guaranteed for Life Really Mean?