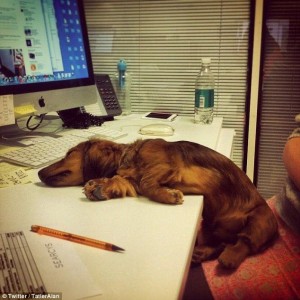 Needing to inject some happiness into your 9-5?
We've got a solution for you: spend time with an animal.
If you're interested in having a pet improve your work day, therapy dog rental is an invaluable trend growing rapidly across the country. Schools and universities have been bringing in dogs for students to play with during finals week as a way to reduce stress, and it was a huge hit. After hearing success stories, many other businesses began to follow suit.
Therapy Dogs in Your Business
Animals have been proven by many studies to boost moods and relieve symptoms of seasonal depression. Pets offer unconditional, non-judgmental love to everyone they meet. Even after a long, stressful work day, dogs have the uncanny ability to brighten our day with the simple wag of a tail. How do they do it? Beats us, but it's pretty incredible!
How It Works
While various organizations operate differently from each other, dogIDs had the opportunity to interview a local obedience school in Fargo, ND that provides therapy dogs to local businesses.
Mary Ellen Steinhoff of the F-M Obedience School brings her three Golden Retrievers to businesses that inquire with the dog school, and then all the people in the establishment can spend time with the dogs.
Steinhoff states, "Dogs are a stress reliever when people can pet and talk to a dog and tell them all their secrets and stories." She continued lightheartedly, "Of course, the dog can't tell, so their secrets are well-kept."
Therapy v. Service Dogs
A common misconception is that therapy dogs and service dogs are the same thing, but there are big differences. Therapy dogs have far less training, and are basically taught how to be ultimate, obedient companions. Service dogs perform specific tasks, such as leading the blind.
By renting therapy dogs for a few hours, a company can help relieve stress and increase happiness of employees. If you're looking for a way to promote positivity in your office this holiday season, therapy dogs are an excellent way to do just that.
Check out different service dog supplies here.