Hiking season has arrived, are you bringing your dog on a hike?! At our HQ in Fargo, ND, we've weathered the brutal winter and are ready to enjoy the sweet summer weather with our pups. There's nothing quite like reaching the end of a trail and admiring the vistas with your best friend by your side. Here are some easy ways to keep your pup safe and happy on your next hiking excursion.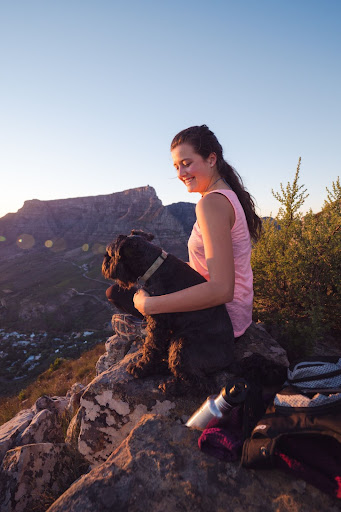 Start slow
Whether your dog is new to hiking, or you are just getting back into shape for the season - make sure to start slow and give both you and your pup time to acclimate to the trails.
Condition your dog slowly by hiking 1-2 miles farther than your normal daily walk. Slowly add a mile on each consecutive hike
Safety first
It's a good idea to check with your vet before starting to hike with your dog. They may suggest preparations and precautions you can take specific to your dog's breed, age, or health conditions.
Keep your dog up to date on their flea, tick, and heartworm preventatives. They'll be exposed to lots of critters, and it's important to keep them safe. Check your dog for ticks after each hike.
Avoid hiking on very hot days, and watch out for heat stroke in your dog. According to the VCA Animal Hospital, signs of heat stroke include elevated breathing rates, dry or sticky gums, abnormal gum color, bruising in the gums, lethargy or disorientation, and possible seizures.
Trail etiquette
It's important to follow some key guidelines when hiking with your pup. Practice the National Parks B.A.R.K. rule whenever hiking:

Bag your pet's waste
Always leash your pet
Respect wildlife
Know where you can go

Additionally, make room for fellow hikers you meet on your path by bringing your dog next to you and giving plenty of space.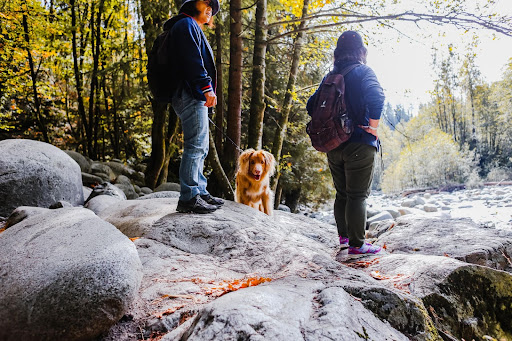 Gear
Consider getting your pup some booties to wear on your hikes. This will protect their paws from extreme heat, cold, or other dangerous terrain.
A multi-use leash like the Waterproof Jaeger Lead lets you roam hands free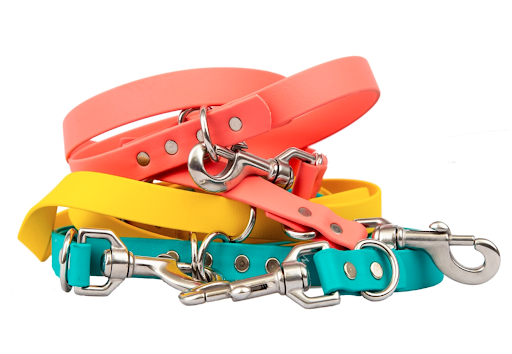 Make sure they are wearing a collar with clear identification on it in case you and your pup get separated. Check out our Fi Compatible Waterproof Collar with Personalized Nameplate that can connect your Fi GPS tracker - ensuring you never lose track of your dog on the trail.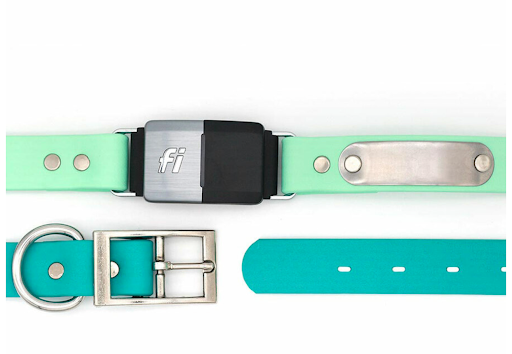 Bring a collapsible water and food dish along to keep your dog fueled all day long
Do you any other hiking tips to recommend? Leave them in the comments below! Happy trails, and happy tails!