If you're an online shopper, you know the struggle of turning down a product that has a price too good to be true.
You see the discount and think, "That should hold up."
It might be tempting, but don't add that leather collar for $6.00 on Amazon!
You should be looking for the best for your best friend, not the cheapest option. Some of hardest working, longest lasting dog collars out there are made of leather. Leather is a great choice for a collar thanks to their durable, but elegant style that softens with age.
With a focus on USA made leather, there are multiple types of leather you can get for your pup.
Whether you choose English bridle leather, Italian leather or bison leather - we know that quality and durability are priceless.
High Quality Leather Collars
English Bridle Leather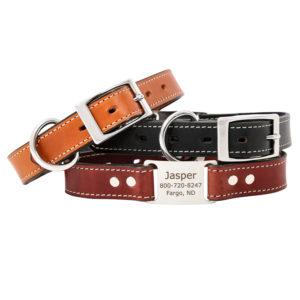 Check out our English Bridle Leather Personalized Collars!
What's the big deal about our English Bridle Leather Collars?
Originally created for horse bridles, it's made to last.
Only U.S. native steer hides used for minimal stretch.
Fully stitched with heavy duty nylon thread for ultra durability.
Hand-rubbed edges and old-world craftsmanship.
Becomes supple and soft over time.
Available in a variety of styles on dogIDs.com with solid brass hardware or stainless steel.
What is English bridle leather?
Vegetable-tanned authentic "English" bridle leather is made from heavy high-quality native steer hides and drum dyed for deep, consistent colors with waxes and tallows. It is then hot stuffed with just the right amount of "spew" on the grain and flesh to have that English feel. English bridle leather collars for dogs are relatively stiff when new, but with proper care and break-in will become soft and extremely supple, conforming perfectly to your dog's neck and have outstanding durability. Hence, it is an ideal leather to use for dog products and that is why we only use this type of leather.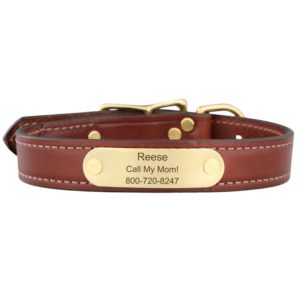 Find this collar here!
Italian Leather
Why Italian Leather?
Want a little color in your collar? Our Designer Italian Leather collar comes in 11 different color options, all with the ability to be personalized. This Italian leather is not only incredibly durable but is also made from water resistant leather. This collar is a great option for pups big and small.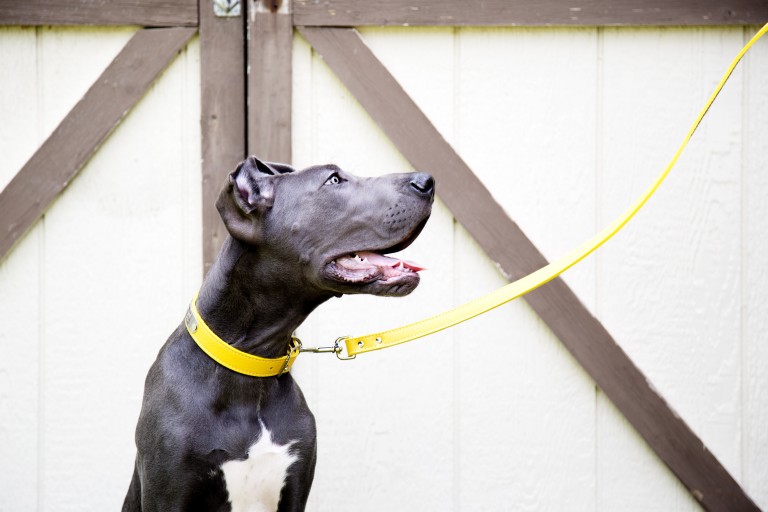 Still not finding the right leather collar? Check out these durable and beautiful leather collars - all made in the USA and guaranteed for life at dogIDs!
Want more information on dog collars? Check out these blogs.