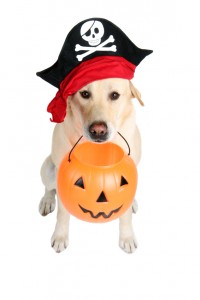 The leaves are changing, temps are cooling and the pumpkin craze has begun. Fall is here! And that means Halloween isn't far behind. Little children in costumes are adorable, but what's even better than that? Pets in costumes.
I always try and dress my pets up somehow for Halloween, although two of my three won't tolerate it for more than a second. If you have a pet that will tolerate being gussied up for this spooky cute day, getting a photo captured of that sweet (OK fine, upset) face is so worth it. Sure, you can go out and buy a costume at the store for your pup, but there are plenty of ways you can dress your pet at home. Here, we compiled a list of some creative and cute dog it yourself dog Halloween costumes for your furry friends.




Costume Ideas for Your Pet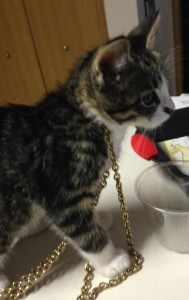 Ballerina – Just make your own tutu using some tulle! Here's an easy tutorial we found.
Bride and groom – If you have two pets, put a bowtie on one and a DIY veil (using tulle) on another.
Grandma – Tie a scarf around dog's neck and stick some curlers in between.
Kitty Perry – Just get a blue wig, and maybe a cute skirt for a puppy pop star.
Rap star – Find a small gold chain and some sunglasses to bring your pet to Lil Jon status.
Nerd – Fashion some glasses out of felt or pipe cleaners and add tape to the nose bridge.
Cereal Killer, with instructions here.
Pupkin Spice Latte – Wrap some cardboard around your dog's middle and draw the Starbucks logo on the sides.
Harry Potter - Make some glasses out of pipe cleaners and fashion your dog a cape! Instructions found here.
Don Draper - Just attach an old necktie to your pup's collar and call him dapper.
Costumes for You & Your Pet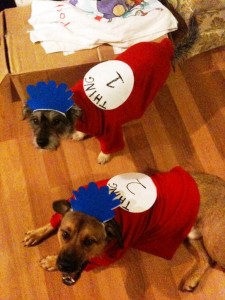 E.T. – Wear a red hoodie, wrap your dog in a blanket, place him in a basket and ride away!
Alice and Dina – Wear a blue dress, black Mary Janes and carry your kitty around through Wonderland.
Robert DeNiro as Jack with Jinxy – Apply some gray spray to your hair, comb it back, put on a flat cap, squint your eyes and hold your cat.
Ron Burgundy and Baxter – Wear a '70s-style suit, hold your pup and maybe a burrito too!
Cat in the Hat with Thing 1 and Thing 2 – All you need for your pups are red shirts, felt and paper.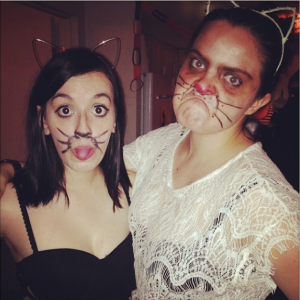 And if you don't have a pet, you can still get in on the fun. Grab a friend and dress up as Lil Bub and Grumpy Cat.
What's your favorite animal costume?