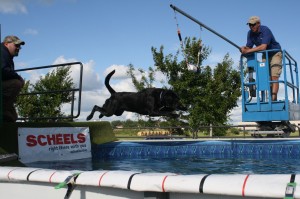 Pet parents have probably always had fun throwing toys off docks for their dogs to retrieve. It's a great way to enjoy time with your furry friend. This summer activity of dog dock jumping turned into a sport at a Purina event in 1997. Then in 2008, the United Kennel Club added dock jumping as a recognized sport. Dogs can now get UKC titles by competing in dock distance or height jumping. Now in 2013, there are large, organized and smaller, local dock jumping events and competitions across the United States. Six years after the widely agreed upon "beginning" of this sport, dock jumping teams travel the country to compete and new pet parents are wondering how to join the fun.
Why Pet Parents Love Dog Dock Jumping
Steve Mize, of Atlanta, Georgia, and his dogs joined the dock jumping fun in 2009. He now travels around the southeastern United States to attend Dock Dogs competitions. He has named his team, Team Southern Charm, and they even went to Iowa last year for a world championship event.
Steve's dogs Willow and Rayne both love dock jumping. Willow is a chocolate lab and Rayne is a black lab. Steve started dock jumping with his dogs because he was looking for a fun activity for all of them to do together. Now it's much more than that for Steve and the dogs. It has evolved into a way for Steve to bond with his pets. It's also a source of pride for Steve. "I'm competitive, so we're always trying to beat our own times," Steve says. The dogs still love it.
Terry Birkeland competed in dock jumping with past dogs he owned. He specifically sought out new pups with strong bloodlines because he wanted to train them for dock jumping and duck hunting. He now has Dixie and Daisy. They competed for the first time at the Midwest Waterfowl Festival in Fargo, North Dakota on Friday, July 26th.
"They're sisters so they've got to do everything in pairs, if one tries to jump farther than the other one then they both try," Terry says. "So it works out good that way."
Dixie and Daisy are competing this summer, at the age of one-year and three-months, for the first time. Terry and his son Keith train the dogs together and say it's a great activity for father and son. They also go duck hunting with the dogs and love that dock jumping training also helps the dogs prepare for jumping off the duck hunting boat.
[slideshow_deploy id='2339']

It's Not Just for the Boys
One jumping team competing at the Midwest Waterfowl Festival was a well-manicured pair. 12-year old Cierra and her 3-year old dog Oreo sported matching manicures for their competition weekend. The two love to do their nails together and train for jumping events. Cierra started training Oreo to jump last summer. They had so much fun practicing and participating at the Waterfowl Festival that they came back for another year.
"I just love seeing how good she gets every year and I love seeing how much fun she has," Cierra says. The guys better watch out for this team!
How Do the Competitions Work?
Event activities vary depending on which club or local group is hosting. But there are some common competitions and rules you'll find at most events. The long jump is the most popular competition. This is what most people picture when they think of dock jumping. A handler will throw a toy off the dock and the dog will run and jump into the water. Some of the longest recorded dog long jumps are in the high 20's and low 30's (in feet.)
Other types of competitions include speed, super launch, high jump or vertical, head-to-head swimming races and catch. Catch is similar to the long jump, only the dog catches the floating toy in the air before landing in the water.
Most dock jumping events require dogs to be at last six months old and solid swimmers. The dog must go in the water willingly and cannot be pushed. Event hosts also typically want your dog on a 4-foot leash or in a crate when they are not competing.
Is Dock Jumping Right for You and Your Dog?
Steve says the key to getting into dock jumping or any other activity with your pet is that the dog needs to love it. After watching his own dogs, and others, try the sport he's noticed that a dog needs to have at least one of the two following things: a level of drive to retrieve toys or a love of water. "It's got to be fun for them and it's got to fit with their personality," Steve says.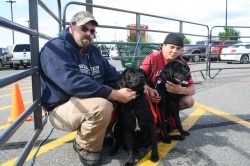 Terry says humans who want to get into dock jumping with their dogs need patience. "Patience is the key virtue in any training of the dog," Terry says. "If you don't have patience with a dog, you can ruin a dog." If you can't tolerate the time and repetitive effort it takes to train your dog, dock jumping will not be enjoyable for either of you.
Steve's dog Jax doesn't compete, which is a reminder that dock jumping is not for all pups. Steve decided not to push Jax into it. Instead, Jax attends the events makes friends with the humans in the crowd. Jax even has a fancy new collar from dogIDs with the Team Southern Charm logo on the nameplate. The crowd loves him and he loves mingling with them instead of having to jump in the water.
How to Start Dock Jumping with Your Dog
If your dog loves retrieving toys, going in the water or both, you should give this sport a try! It doesn't take a lot of training to get started in dock jumping, which is why many pet parents are finding that it's a great way to try something new with their furry friend. Why not try to join the fun?
Before you start throwing a dummy into the water off a dock, be sure that your dog is comfortable swimming. A great place to start is a gradually declining lakeshore. Wade into the water with your dog and then walk deep enough that they'll have to start paddling those legs. Once you're comfortable with your dog's swimming abilities, you can move on. You can also use a dog lifejacket if your dog needs a little extra help or you want an added level of safety.
Next, find a floating toy that you'll use just for dock jumping. We suggest the Jumbo Plastic Dog Training Dummy for dogs 10 months and older and the Plastic Knobby Dog Training Dummy for younger dogs. Go back to that shore and throw the toy just a few feet into the water. If that goes well, throw it farther and farther into deeper water.
Once your dog is comfortable retrieving a toy in the water, you can move to the dock. This process may go quickly or need to be slow. Keep in mind that it might take a few visits to the lake to get to this point. Don't give up after a few attempts; there is still hope.
When your dog is happily retrieving the toy in the water from shore, move to the dock. Stand at the edge of the dock with your dog and drop the toy into the water next to the dock. Once your dog steps or slides into the water this first time, celebrate like you're never celebrated before!
"When I first got them on the dock they were real scared," Terry recalls. "Basically they had to fall off it and then they figured out, well this isn't so bad. After that it was just natural, throw the toy and they were off."
Once your dog is off into the water without hesitation, try throwing the dummy just a few feet into the water. After your dog has mastered that, throw the dummy farther and see how that goes. You can work your way up to throwing the dummy 10, 20 or 30 feet.
At this point you can work on starting your dog farther back from the edge of the dock. You can either try the "place and send" method or the "chase" method. The place and send method is for dogs that are not trained to wait or stay on the dock. You hold the dog at the edge of dock while throwing the dummy. Then walk the dog back to the starting point, place them there, and then send him to go get the toy. The chase method is for dogs that will sit back on the dock while the handler throws the toy from the edge of the dock. The handler calls the dog and then throws the toy for the dog to chase.
Some dogs will go from being comfortable swimming to jumping off the dock in one day. Others will take months. Keep trying and go through the steps slowly if needed.
Finally, before going to an event, it would be smart to make sure your dog is familiar with using a ramp or ladder to get out of the water. Practicing this with a ladder for dogs will make your first pool event experience less stressful.
Dock jumping clubs and local events also typically have open or practice times so you can go check that out as a first attempt at doing this in public. You'll probably also meet experienced handlers there who can give you extra pointers.
Going to an Event to Participate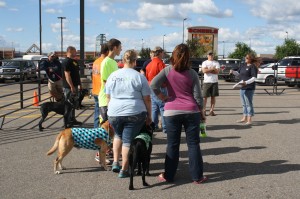 If you're interested in trying dock jumping with your dog, you might want to look at a local event, like the recent Waterfowl Festival in Fargo, North Dakota. dogIDs is proud to have provided a personalized collar with the event logo for a winning dog. There are also three major organizations that plan dock-jumping events. Look for events in your area hosted by Dock Dogs, Splash Dogs or Ultimate Air Dogs.
The first thing you'll want to do is introduce your dog to the pool and the ramp in the pool. Do this by bringing your pooch to the ramp and guiding her to climb into the pool using the ramp. Now she can see the water and a way to get in and out.
Don't be intimidated by the other jumping teams. This sport is new enough that even the most experienced handlers remember what it was like to start. Ask questions, make friends and have fun!
Equipment You'll Want
Steve's dog Willow wears one of our waterproof collars when she jumps. It's Steve's collar of choice for dock jumping.
"I need something that's strong, durable, but yet it's flexible to their neck. So that's why I like the colors that you guys send me," Steve says. "We're getting wet and dry and wet and dry and the waterproof ScruffTag collars don't wear or scuff or hurt the dogs. They have a buckle, and a lot of us like the buckle, because the adjustable collars stretch out when they're wet."
You'll also want to bring supplies with you for the day of the event. You'll want a crate, personalized leash, travel dog bowls, towels, treats, food and water.
Have any questions or a great dock-jumping story to share? Leave a comment for us!
Did you find this blog post useful or interesting?Share it with your friends by clicking the buttons below.