Do you ever wonder where in the world your dog's favorite collars and tags are coming from? In case you didn't know, dogIDs is headquartered in West Fargo, North Dakota where all of our operations occur. When we aren't hard at work building your dog's personalized collar and the leash to match, you can often find dogIDs in some of our favorite places around the Fargo area.
Lunch Time
For lunch options within walking distance, which there are many, we usually like to go as a Pack so we can spend some quality time with our coworkers. The local donut shop, Sandy's Donuts, is always a Pack-favorite for lunch. Especially on Tuesdays for their Southwest Chop Salad (which comes with any one of their mouth-watering worthy donuts).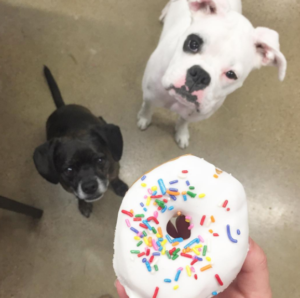 Another taste bud pleaser is parked right at the other end of our parking lot. The Taco Bros food truck is the perfect option for a quick lunch to bring back to the office or on a day that you are feeling indecisive. One order of the Trust You Bro Platter and you leave your lunch up to the brilliant people making your delicious food.
Fun Around Town
Nearly all of the photos of dogs wearing our gear that you find on our website were taken right around our downtown office. For a change of scenery, our photo team likes to make a trip to Island Park. Not only do our office dogs love the park, it's also a great spot to gather as a Pack for team-building exercises and a break from the indoors.
If our dogs are not in the office with us, you can likely find them at Hotdog! Pet Salon for a grooming. After getting pampered by our friends at Hotdog!, Ody and Emma always come back to work with their heads held high, their tails wagging and a fresh bandana tied around their neck.
After Hours
When the workday is done, the dogIDs Pack is lucky enough to be right in the center of a community with some excellent local breweries. Fargo Brewing Company is right around the corner from our office and makes a great place to grab a pint all year round. If you want a night out where you can bring your dog, Junkyard is the place to be. They always set out plenty of water for the puppers on the patio so they can quench their thirst while you quench yours!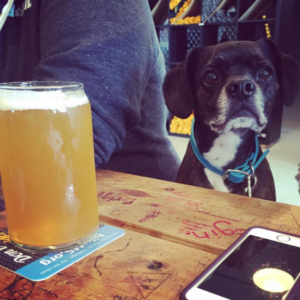 Fargo is a great city to start a business in and an even better place to call home. If you're from the area and see the dogIDs pack out and about, say hi or even better, stop by the dogIDs office and see what we are working on. If you are not from the area, we hope you will come visit our city on the rise! We promise, Fargo is anything but normal.
What are some of your local favorites?
About the Author
McKaila is a Product Marketing Intern at dogIDs. She recently graduated college and is pursuing a career in marketing and content writing. She gets her puppy-fix by making friends with the dogs that live in her building. You can usually find her drinking coffee and saying hello to every dog she sees.