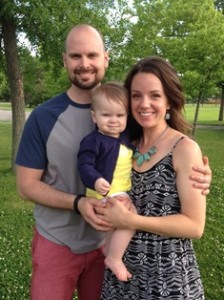 We are excited to welcome our newest partner, Justin Nelson, to the dogIDs pack! Justin's sewing shop is located right here in our hometown of Fargo, ND. This new partnership means your dog can enjoy the safety and comfort of a custom-embroidered nylon collar in a variety of bright colors, shipped quickly and conveniently to your mailbox!

A Little Bit About Justin
Justin lives in West Fargo with his wife, Crystal, and one-year-old daughter, Olivia. They have a family dog named Lyla who is a three-year-old Viszla. When he's not at work, Justin says, "Most of my spare time is spent chasing my daughter around the house while she chases Lyla around the house."
Justin also likes to stay active. He enjoys playing hockey and broomball. He is also a dedicated (and we're guessing disappointed) fan of the Minnesota Vikings football team.
Justin has many years of production experience, including embroidery work at Scheels All Sports. Every collar he creates undergoes quality control measures. Just like us, Justin believes in providing only the best for man's best friend.
We're happy to welcome Justin to our dogIDs team, and are very excited to offer his fun, unique collars to you and your four-legged pal!