Looking for a way to include your pet in the holiday festivities? Let them add their touch to some cute decorations.
There are so many adorable items you can create with your dog's paw print. Here are a few examples you can try out.
When painting a dog's paw, make sure to use a non-toxic paint and thoroughly clean off when finished.
Paw Print Holiday Crafts
Paw and Handprint Tree Painting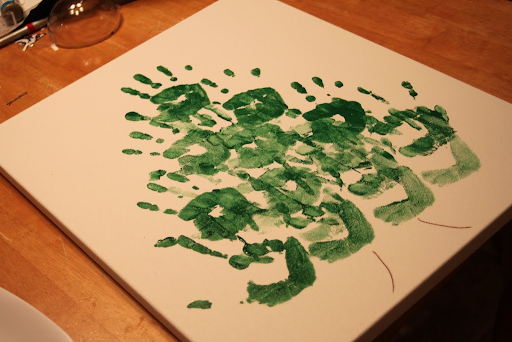 Collaborate with your pup to create a festive, hand-made piece of art. Paint your hand and create a pyramid of handprints. Draw a tree trunk coming from the bottom. To include your dog, paint their paw with yellow or gold paint and place their print at the top of the tree. Voila! An adorable handprint tree with a pawprint star.
Paw Print Gift Tags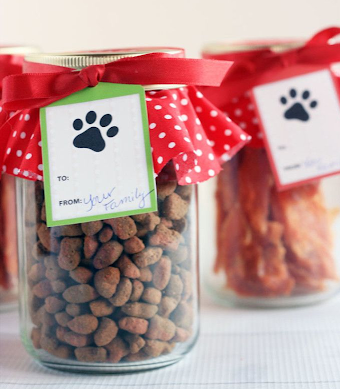 Have a friend who loves dogs? Or maybe you're giving a gift to your pup's best friend? Let your dog add their signature! Paint their paw and place their print on a tag, then add a to and from. Add a little color by cutting out the tag and glueing it onto red or green paper.
Salt Dough Ornaments
Give as a gift or hang on your tree! Salt dough ornaments are a unique way to include your pup in family traditions.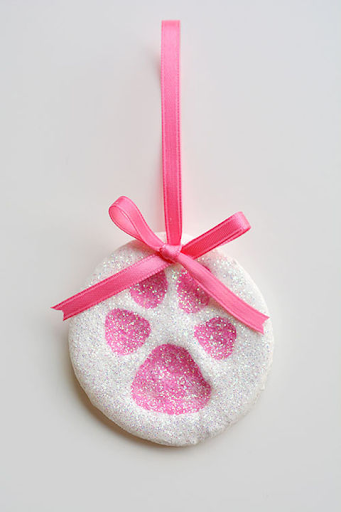 Ingredients
-½ Cup Hot Water
-½ Cup Salt
-1 Cup Flour
Mix all together to make dough. Roll out dough and gently press your pet's paw into dough. Use a knife to cut out the paw print. You can shape is as a circle, tree, or any shape you like. Use a straw to punch out a hole to hang the ornament. Place on baking sheet and bake at 225°F for 2 to 3 hours or until they are solid and dry. Once they have cooled, you can paint them! String a ribbon through the hole and hang on the tree.




Holiday Treat Jar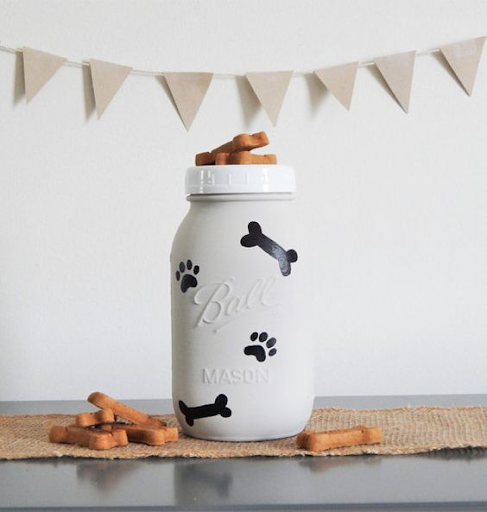 Create a special holiday treat jar as a gift to your pup! Using a non-toxic paint, coat the jar or container. To make it festive, use red and green or paint a snowy design. Add personalization by having your dog stamp their paw print around the jar. Include their name, bones, or a holiday greeting. Get creative!
Bonus Holiday Idea
Dog Christmas Cookies
This one doesn't include your dog's paw print, but it makes a great treat for your best friend. Make these delicious treats to put into your holiday treat jar or to reward your pup after the hard work of painting paw prints.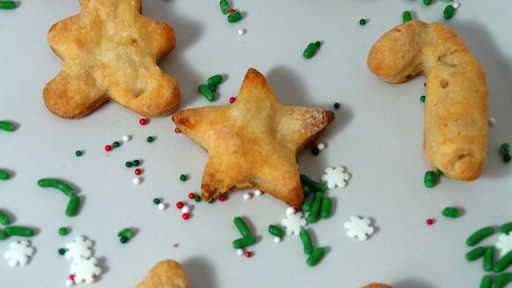 -2 Cups Flour
-1 tbsp Baking Powder
-1 Cup Peanut Butter
-1 Cup nonfat Plain Greek Yogurt
-Water as Needed
Combine all ingredients and add a small amount of water if dough is dry. Roll out dough and cut out with cookie cutters. Place on cookie sheet and bake at 375°F for 15-18 minutes. Let them cool and serve to your pup!