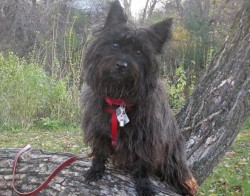 Dog lovers are always looking for ways to help homeless pets. While adoption is out of the question for some of us, perhaps fostering a dog could be an option. Fostering a dog means you provide the dog with a temporary home until the dog gets adopted. The following are some
Tips to help you get started with fostering a dog.
1. Realistically evaluate your lifestyle.
Welcoming any new dog into your home is usually a lot of work, and it's very important to find a dog that will fit into your routine as easily as possible. For example, if you are home most of the time, then maybe you would not have a problem fostering a puppy or young dog that requires a lot of attention. If you work long hours or if you don't have a lot of time for exercising a dog, you may want to consider a middle-aged or senior dog.
Of course, some senior dogs are high energy and some young dogs are very laid back, so it's important to consider each dog as an individual.
2. Find a shelter or rescue group in need of foster homes.
Most rescue groups depend on foster homes, so if you search the various rescue web sites in your area, they will probably have foster home applications right on their web sites. Not all shelters have official fostering programs, but it's okay to contact the shelter directly and ask if there is a need. Sometimes shelters seek out foster homes for injured dogs or very shy dogs that don't do well in a shelter environment.
3. Go through the application process.
This process will vary greatly depending on the organization. Some will basically hand over a dog to anyone while others will have an extensive application process that includes references. They may also require you to pass a "home check" with a volunteer which is typically an informal process that shows your home is safe for a dog.
4. Ask a lot of questions.
Before you agree to foster a dog, you'll want to make sure you're on the same page as the rescue group. There is not necessarily a right answer for these questions. Each group will be different, but you should know the answers before you commit to fostering. Here are some example of questions you should ask:
Is the dog up to date on vaccinations?
Does the rescue typically supply a kennel, food, dog leashes, dog collars and other basic items?
Will the rescue pay for any veterinary care the dog needs?
Will the rescue pay for any damage the pet causes?
Who should I contact if I have questions about the dog?
Can I return the dog if it doesn't work out? Who should I contact?
5. Place ID tags on the dog right away.
The rescue or shelter should have ID tags for the dog. The contact information on the tags will most likely be the shelter's direct number or another volunteer's number. If the shelter doesn't provide you with ID tags, you should ask for them or get tags made yourself right away. You just never know when a new dog will get startled and slip through her leash.
Have you ever fostered a dog? Do you have any advice for new dog foster homes?