Your pet's ID tag is his ticket home if he gets lost.
But how many dogs wear tags with old addresses or disconnected phone numbers? Or what about collars with no tags or nameplates at all?
Responsible dog owners do irresponsible things sometimes. We're all guilty. We spend money on new collars without bothering to order new tags. "Oh, we'll just use the old tags," we say. Then we wait days or weeks before transferring them from the old collar to the new. And that's if we bother to move the tags at all.
Don't wait. Here is what you need to think about but may have never considered:
It only takes a second for a dog to slip through the door, for a neighbor kid to open the gate, for a friend to drop the leash. These things happen.
Is your pet's ID tag information current?
If you've moved recently or changed your phone number, take the time to order new dog ID Tag. Such a small task could save your pet's life.
If your dog or cat gets lost in your new, unfamiliar neighborhood, he will be less likely to find his own way home. If you try to search for him in a new city, you will be less familiar with the surroundings, too. You may not know your neighbors. You may not be familiar with how the pound/shelter system works because every community's animal control system is different.
Avoid this situation, by updating your pet ID tags now.
Make sure your phone number and address are listed on your pet's tag. You want to make it as easy as possible for him to get home.
What To Put On Your Dog's Tag
Let's say a woman is out running, and she comes across your dog. He jumped the fence in the backyard, and you aren't even aware of this yet. Your dog is wearing an ID tag, with his name and phone number. But no address.
The woman calls the number, but it's your old cell number, the one you used before you moved. So what should the woman do now?
Does she take your dog home and adopt him? Does she leave him there and hope for the best? Does she hang "lost dog" fliers or knock on doors? Does she surrender him to the pound?
It's a scary thing to imagine your dog's fate in the hands of a stranger. Don't leave it to chance with your dog. Make it easy for him to get home. Update his tags now with your first and last name, your current address and a current phone number.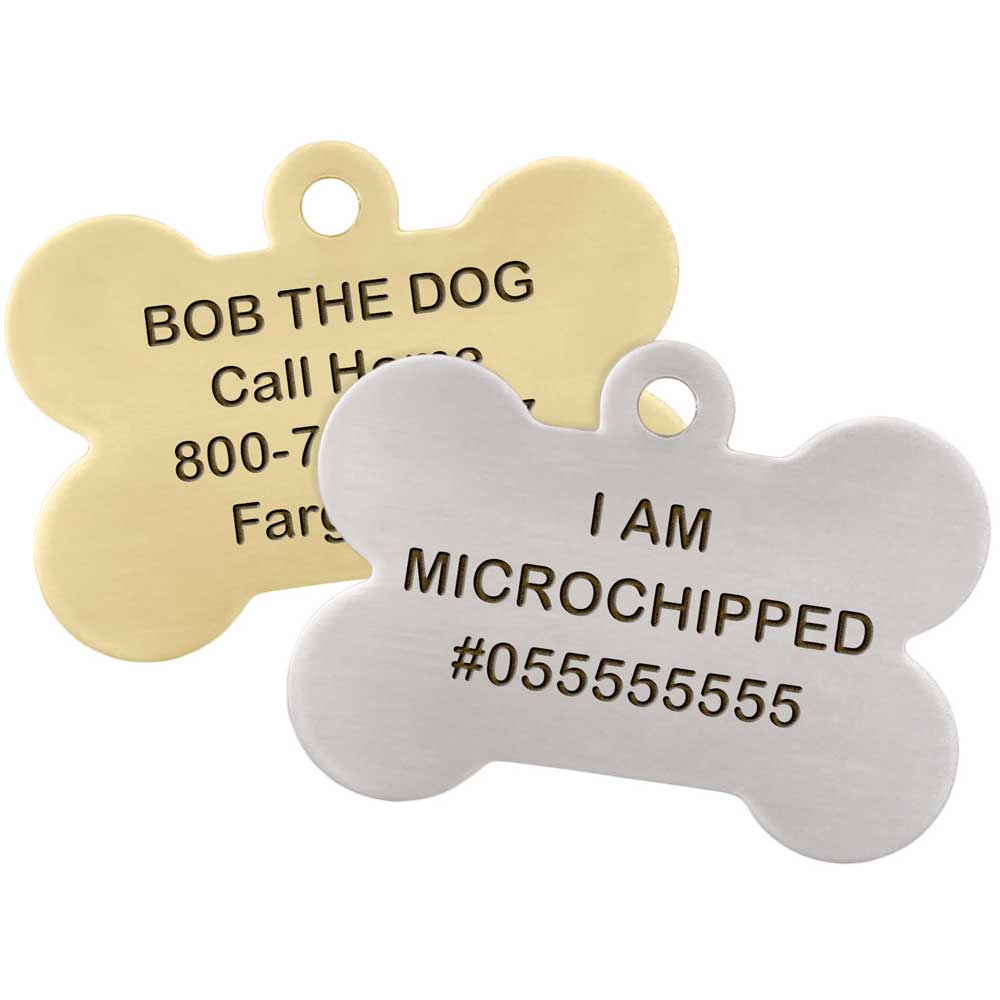 Don't Depend on Microchips Only
Oh, but your pet has a microchip? That's a good backup, but don't assume the average person who finds a dog will even think to check for a chip. Even pound workers may only check for certain types or certain brands of microchips. Some don't bother to check at all or they lack the equipment to do so. If your dog is microchipped, get them this tag so that they have other information with them too.
Order your dog an updated tag today!
Is there a time you wish your dog had an updated tag on?