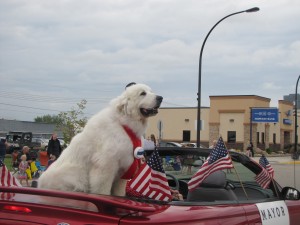 Duke for Mayor
On a beautiful Saturday in August, the small township of Cormorant, Minnesota held a ceremony to be remembered. After a five-hour grooming session, the town's favorite dog, Duke, was elected and sworn in as honorary mayor of the city!
Cormorant Daze is the township's annual summer festival weekend, so the committee decided to do a fun and different competition this year to get everyone involved. Hence, the ballots, which cost $1 each, were cast for Cormorant's Mayor-Elect.
The Votes Are In
The two main contenders were: a local store owner and Duke the dog. (We are uncertain of the political standings of either candidate.) Apparently, Duke won by a landslide. After winning, Duke chose not to release a statement for the press...his humility is notably admirable. Only in Minnesota, eh?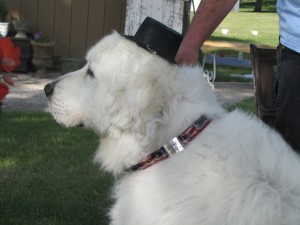 According to an employee at the local pub, "Duke is a mild-mannered dog who belongs to Dave at the 'Rick Farm.'" Duke frequently comes into town with his owner where the dog moseys around and entertains the local townspeople at the Pub.
Duke is featured wearing the regal All-American ScruffTag Collar from dogIDs. On behalf of our dogIDs pack, we'd like to congratulate Duke and wish him the best of luck as he loyally serves the Township of Cormorant throughout the next year!