It's the middle of the night, and all is quiet throughout the house. Until … jingle jingle jangle jangle! Your pet got up, and now you're awake because of that darn noisy tag.
It's happened to me countless of times. Whether Brick gets out of bed to walk around, stretch or scratch, or even just to re-situate, I hear it. I'm a light sleeper, and a lot of things wake me up, but my dog getting up for some water shouldn't.
The thing is, it may not just annoy us humans. Some animals have sensitive hearing, and dogs especially have an acute sense of sound, so those jingles can be hard for them to listen to as well.
For some silly reason, it never even occurred to me that this was something that was easily solvable. I just thought it was a nuisance, and would be bothered when I'd be awoken by it. Here are a few ways to stop your dog's tag from jingling!
What is this thing you speak of? Yes, that's right. It's a tag silencer! I got one for Brick right away to see how it worked, and after having it for about a week now, I am one happy customer.
The dogIDs tag silencer is small and simple. Just slip the flexible plastic around the tag itself and reattach it to your dog's collar. Jingle be gone! The silencers come in a few sizes and shapes to fit the specific tag your pet has, and are even glow-in-the-dark!
They're also really affordable at just $1.50. But the real price of having undisturbed slumber is priceless.
Eliminate The Tag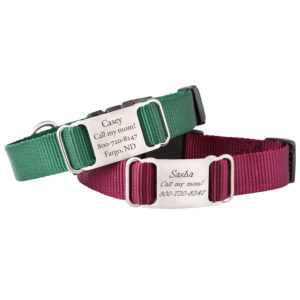 This is a great option if you want to eliminate your dog's tag completely. ScruffTag collars have a nameplate built into the collar. You can personalize your information so that your dog can stay safe and sound without having a tag at all!
If you want a comfortable option for your dog, this is it. You can personalize your dog's name and your phone number right onto the nylon so that they don't have to have any type of tag on their collar. You can choose from multiple color options to customize your dog's collar. Good news. There is no jingling whatsoever with this option!
There are a number of styles and buckle types when you get an engraved buckle collar. This option also eliminated the annoying jingling sound of a tag and keeps your dog just as safe. Choose from plaid to nylon to pop culture designs for your engraved buckle collar.
If the jingling of your dog's tag really annoys you, I highly recommend checking out any of these options. Many people aren't aware that there's other options than having a tag dangling from their dog's collar. This irritating problem is such an easy fix. No more waking up to jingling tags, only slobbery kisses!
Have you tried a tag silencer yet or gone tag-free? What's worked best for you?