Nylon or leather? Which is better for your lifestyle? Which will give your dog the perfect look?
While both types of collars are great, one may work better for you and your dog. Check out the characteristics of each, as well as some pros and cons.
Nylon vs. Leather Collars
Nylon Dog Collars
Nylon collars are made from a nylon webbing and they typically have a plastic or metal side release buckle. Nylon is available in a wide range of colors to perfectly fit your dog's personality. These collars can be embroidered - or you can choose a classic hang tag or ScruffTag.
Being such a flexible material, nylon dog collars are easily adjustable to fit your dog's neck just right. Nylon is lightweight and comfortable, yet durable enough to last your dog for years to come.
Pros
Cons
Some dogs are allergic to nylon

Has the possibility of fraying - Watch

this video

to see how to fix this problem.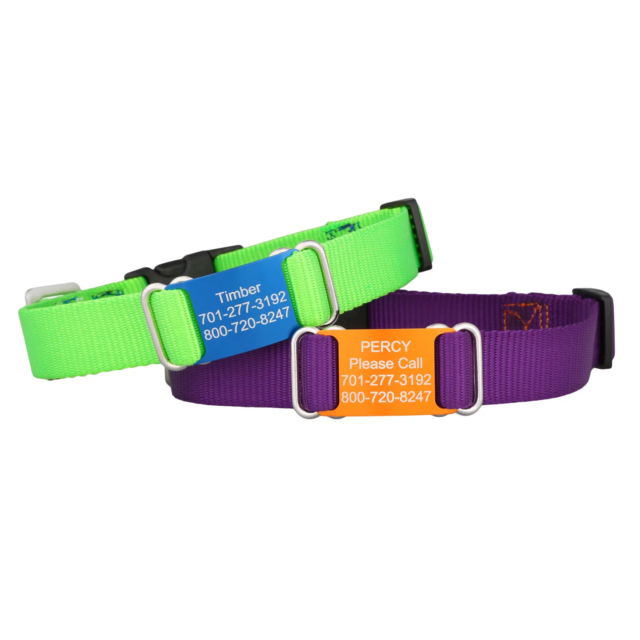 To check out more nylon collars, click here.
Leather Dog Collars
Leather collars can be either flat or rolled. Rolled leather collars are great for dogs with long fur because it prevents matting. These collars have a timeless style and can last a great length of time if properly cared for. They typically have a belt buckle closure, which adds to the classic look. Leather dog collars can have either a nameplate or a ScruffTag. They are also available in colors or with padding for extra cushion.
Pros
More classic look

Conforms to dog's neck over time - becomes more pliable over time

Will break under too much pressure - as in a case of dog's playing and getting stuck in the collar

Made from natural materials - Less likely to cause irritation to your dog's neck.
Cons
More work to maintain -

click here

for a guide on caring for leather collars

Not as hardy in water - can crack over time if not properly cared for

If allowed to get dry and brittle, leather collars can cause chaffing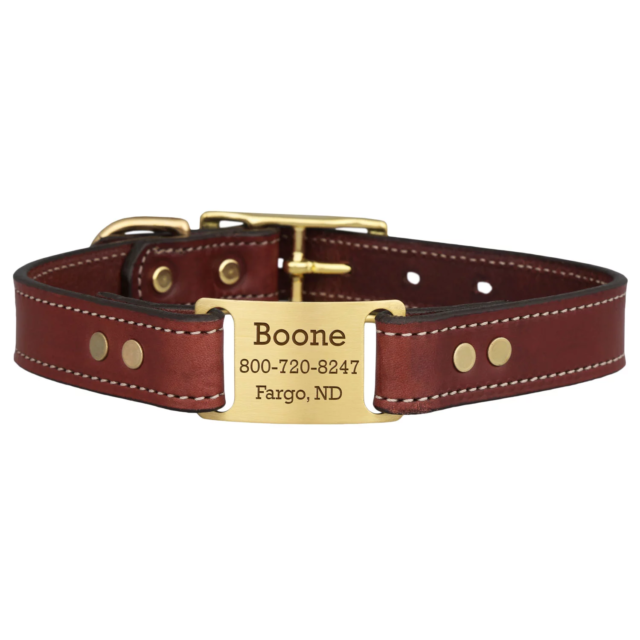 To check out more leather collars, click here.
Still not sure which is best for your pup?
For more information on Nylon Dog Collars, read our blog 3 Benefits of a Nylon Dog Collar.
For more information on Leather Dog Collars, read our blog High Quality Leather Collars.