Paw It Forward With dogIDs
Started in 2015, our Paw It Forward program gives our customers the opportunity to support wonderful organizations that improve the lives of dogs. Every dog lover that shops on our site can donate $1, $5 or more to the nonprofit we're featuring for the quarter.
At dogIDs, our mission is to improve the lives of dogs. We seek only the best partners to feature for this program. Past partners have included Best Friends Animal Society, Military Working Dog Team Support Association, and WorldVets.
This quarter we're proud to announce our new Paw It Forward partner, North Shore Animal League America.
Why North Shore Animal League?
Founded in 1944, Animal League America is the world's largest no-kill animal rescue organization. During its 70-plus years of innovation, Animal League America has rescued more than 1,000,000 dogs and cats, becoming a recognized leader in animal welfare and a pioneer in the no-kill movement.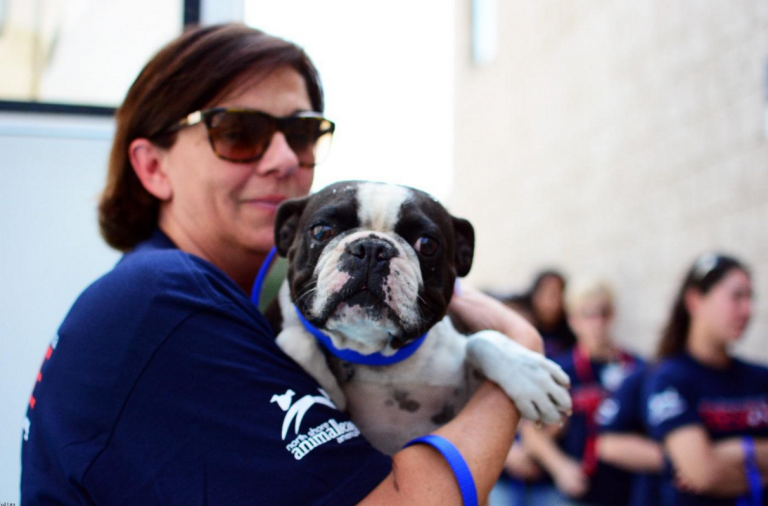 Four powerful words sum up Animal League America's multi-faceted mission: Rescue. Nurture. Adopt. Educate.
Rescue: Headquartered in Long Island, New York, Animal League America has more than 2,000 rescue partners in the Greater New York region, across the country, and around the world. Through its Humane Relocation programs, Animal League America brings thousands of animals from overcrowded municipal shelters to the safety of its no-kill Adoption Center.
Nurture: Animal League America's campus features a medical center, canine and feline behaviorists, groomers, and trainers. Animals in their care flourish and find responsible homes.
Adopt: Each year, nearly 18,000 pets get adopted as a result of Animal League America's programs.
Educate: The Mutt-i-grees® Curriculum is a unique program for students from Pre-K through high school. By linking social and emotional skills like empathy, compassion, and teamwork with the plight of shelter animals, the curriculum is creating calm, confident kids who are sensitive to animal welfare issues.
Creating a better world for dogs and their future companion people is something that we at dogIDs are very passionate about. We love that North Shore Animal League America shares our passion, offering multiple programs and services that advance dog rescue from sea to shining sea…and beyond!
dogIDs will match 10% of all donations, up to $1,000.
To learn more about our newest Paw It Forward partner, click here.